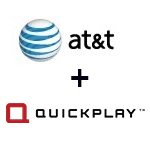 AT&T is busily preparing for an upcoming DIRECTV OTT streaming launch, and is acquiring Quickplay in the process. Quickplay provides a managed video platform that powers OTT, TV Everywhere, and other digital video solutions. AT&T already uses Quickplay for their U-verse TV platform.
AT&T is in the process of revamping their various video offerings into a single user experience. That includes an upcoming launch of a standalone DirecTV OTT streaming service, tentatively called DIRECTV Now, which Quickplay's technology will help enable.
"We've spent more than a decade developing an advanced technology and service platform that can deliver premium video content to any device and over any network," said Wayne Purboo, founder and CEO of Quickplay in a press release. "With AT&T, we'll have the resources we need to further scale, grow the business, and continuously enhance that platform."
The transaction is subject to pre-merger review under the Hart-Scott-Rodino Act in the U.S. and the Competition Act in Canada. Financial terms were not disclosed and the acquisition is expected to close in mid-2016.
The ongoing shift to digital video distribution has video service providers investing in and buying the technology firms necessary to enable it. AT&T competitors have been active on this front as well. Comcast acquired thePlatform several years ago and Verizon acquired Intel Media, which was focused on developing an OTT solution.
DIRECTV OTT Streaming
DIRECTV Now will offer a yet undisclosed channel line-up for OTT streaming to any potential subscriber, whether they subscribe to AT&T/DIRECTV services or not. It will compete with the likes of DISH's Sling TV and Sony's Vue TV OTT services.
AT&T intends to launch other scaled down OTT services in addition to DIRECTV Now, including a mobile first version, called DIRECTV Mobile.