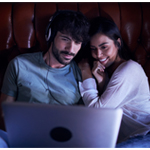 The COVID-19 pandemic is keeping much of the country indoors. That captive audience is leading streaming companies and service providers to extend previews and offer free video programming. It's a public service – and a good way to highlight their content.
Here are some highlights of the free video programming trend:
Amazon Prime Video is making a mix of Amazon Original kid's programming and third party family content available to all Amazon customers, according to Tech Crunch. The selection will broaden as time passes, the story says.
AT&T's offers: Between today and April 2, DirecTV and U-verse customers will get a complimentary preview of Starz. AT&T said that in the coming weeks AT&T TV and AT&T TV NOW will be added to the mix. Previews from Epix will be offered from April 2 to April 16 and from HBO and Cinemax from April 17 to April 20.
CBS All Access is extending the typical week-long free trial to a month, according to the Verge.
Charter is providing Showtime and Epix to all subscribers until April 19. The expanded programming began on March 23.
Comcast is making the on-demand catalogs of a number of premium networks and SVOD services available to Xfinity X1 and Flex customers. The first being offered are Showtime, EPIX, CuriosityStream, History Vault, Grokker Yoga Fitness & Wellbeing, DogTV, Kids Room, The Great Courses Signature Collection and The Reading Corner. The programming can be accessed by Xfinity subscribers with X1 and Flex by saying "free" into their voice remotes. More programs will be made available in the near future.
Sling TV is providing its SLING Blue service free to those new to Sling TV for 14 days. The service offers more than 45 live channels, free cloud DVR, and more than 50,000 on-demand titles. IT also enables simultaneous viewing on three screens. The offer is available from today through April 5.
Verizon has launched "More at Home…on Us," a program aiming to "aid consumers dealing with work-from-home and shelter-in-place realities" of the pandemic. Next month, Fios and Verizon wireless subscribers will have access to education resources, tools and games from four content providers:
Quizlet: Students and teachers will get a Quizlet Plus account to study languages, science, math, history and other subjects.
Bookful: Enables hundreds of books and games to come to life via augmented reality and 3D.
Chegg: Access to Chegg Study Pack includes text book solutions, Q&As, practice tests, grammar and plagiarism checkers and a math solver.
Epic!: A 40,000-book digital library.
Verizon also said that beginning on April 1, Fios TV subscribers will get access of 30 days of Showtime, Epix and Gaiam TV Fit and Yoga programming free. For a limited time, news and related channels — including Fox News Channel, MSNBC, CNN, Discovery Family, BBC America and others — will be added to subscriber bundles that currently don't include them.
Free video programming is just one example of the things that AT&T, Verizon and other broadband providers are doing during COVID-19. For example, some providers are trying to make remote learning more accessible in light of shuttered schools.