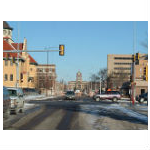 Windstream today said it would accept the majority of the funding offered to it in Phase 2 of the Connect America Fund program to cover some of the costs of bringing broadband to rural areas of its local service territory that currently lack Internet connectivity or that have only low-speed Internet. The company accepted $175 million of nearly $179 million it was offered annually for the next seven years. In accepting the funding, Windstream commits to bringing broadband to about 400,000 unserved locations in 17 states out of 18 for which it was offered funding.
Carriers are required to accept or decline funding on a state-by-state basis. The state for which Windstream declined funding was New Mexico.
"[T]he statewide offer would not enable us to meet the program's obligations," said Windstream CEO Tony Thomas in a press release about the CAF funding today. The FCC calculated the amount of funding offered to carriers in Phase 2 of the CAF program using a cost model.
Thomas also noted that Windstream would participate in the reverse auction that the FCC will hold in order to award funding in New Mexico. Other carriers also will have the opportunity to bid to provide broadband service in that auction, with funding going to the carrier that offers to provide service at the lowest level of support. Importantly, bids in the reverse auction will not have to be on a statewide basis. Instead service providers will be able to bid on smaller areas.
Windstream Accepts CAF, What's Next?
Potentially some other states also will see reverse auctions. Ten price cap carriers were offered a total of $1.7 billion annually in Phase 2 of the Connect America Fund program and have until later this month to accept or decline funding. To date only one other carrier – Frontier – has informed the FCC of its intentions. Frontier accepted all of the money it was offered.
The broadband-focused Connect America Fund is the updated version of the FCC's voice-focused Universal Service program. Phase 1 of the program offered price cap carriers smaller amounts of funding to bring broadband to a smaller number of homes in their service territories. Some but not all of the price cap carriers opted to participate in Phase 1 of the program.
The FCC also is in the process of transitioning the nation's smaller rate of return carriers who serve many rural areas of the U.S. from the traditional USF program to the CAF program. Details are still being resolved but FCC Chairman Tom Wheeler has promised action on the program before the end of the year.
According to an FCC press release, the states for which Windstream accepted funding are: Alabama, Arkansas, Florida, Georgia, Iowa, Kentucky, Minnesota, Missouri, Mississippi, North Carolina, Nebraska, New York, Ohio, Oklahoma, Pennsylvania, South Carolina and Texas.