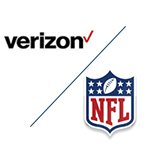 Verizon and the NFL are partnering together to showcase 5G technology in NFL stadiums for the upcoming season. This Verizon NFL 5G campaign will initially be featured in 13 NFL stadiums but could grow to more.
Verizon 5G Ultra Wideband service will be available in these stadiums and will include demo areas where fans can experience 5G. Features at these demo booths will allow fans to watch multi-angle instant replays, among others. Demo areas are important, considering so few people actually subscribe to and have 5G capable phones.
Verizon doesn't offer 5G in all of these markets, so in many cases, the stadium is the only location where Verizon 5G is available in those markets. Verizon mobile 5G is currently available in limited areas of 10 markets, including Atlanta, Detroit, Indianapolis Chicago, Minneapolis and Washington, D.C.
Verizon 5G NFL stadiums currently include:
Bank of America Stadium (Carolina Panthers)
Empower Field at Mile High (Denver Broncos)
CenturyLink Field (Seattle Seahawks)
Ford Field (Detroit Lions)
Gillette Stadium (New England Patriots)
Hard Rock Stadium (Miami Dolphins)
Lucas Oil Stadium (Indianapolis Colts)
MetLife Stadium (New York Giants and New York Jets)
M&T Bank Stadium (Baltimore Ravens)
NRG Stadium (Houston Texans)
Soldier Field (Chicago Bears)
U.S. Bank Stadium (Minnesota Vikings)
"We're proud to work with such an iconic organization to bring Verizon 5G Ultra Wideband service to fans across the country," said Hans Vestberg, Verizon CEO in a press release. Verizon 5G is fundamentally changing the way we live, work and play, and we expect the impact on the sports entertainment industry to be massive – it promises to revolutionize the entire game-day experience for fans."
Verizon has a broader 5G campaign tied to the NFL, including advertising featuring the recently retired, and still popular New England Patriot Rob Gronkowski.
[embedyt] https://www.youtube.com/watch?v=LfLikZt9Oz0[/embedyt]
Sports is seen as a key industry for 5G, particularly with the game day experience. The NBA recently partnered with AT&T for a 5G trial. 5G promises to help enable high bandwidth applications like virtual and augmented reality, which leagues hope will enhance the game day experience.
Wireless carriers are looking for every possible opportunity to raise 5G awareness and partnerships like this are key to that effort.