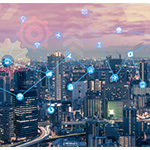 Verizon has added fixed voice service to its Cat M IoT service and plans to add mobile voice capability within 30 days. Verizon Cat M service is designed for Internet of Things applications requiring long battery life and relatively small packet size, a Verizon spokesperson explained on a phone call with Telecompetitor.
The spokesperson offered two examples of applications that could benefit from adding voice to Cat M service. One would be in fleet management to support voice along with data communications. Another would be to enhance video surveillance.
Video surveillance systems often are designed to send video images to a business owner and/or monitoring facility when motion is sensed. Adding voice capability would provide a voice link to the surveilled area, the spokesperson said.
IoT device manufacturers will need to build equipment with Cat M capability to use Verizon Cat M service. The spokesperson noted, for example, that there already are currently several security and alarm companies with solutions that run on the Cat M network.
"The addition of voice capabilities — today's announcement — has just been enabled on our network, so developers will now begin developing and bringing to market solutions that run on the Cat M network and use voice," the spokesperson explained.
Verizon Cat M
Cat M, also known as Cat M-1, is one of several IoT communications protocols. In a press release, Verizon suggests using NB IoT Guardband technology for "small" IoT applications with data rates below 100 kbps, while Cat M is well suited for "medium" data needs, Cat 1 is recommended for "larger" IoT applications and LTE is best for "extra-large" data needs.
Verizon launched Cat 1 service in late 2015,  followed by a Cat M network in early 2017.  Earlier this year the company said it plans to have NB IoT Guardband service available nationwide by the end of the year.
Verizon said it successfully tested voice over LTE service over the Cat M network last year.
When Verizon Cat M service was launched, service was available for $2 monthly. The Verizon spokesperson said pricing for Cat M with voice service has not yet been determined.