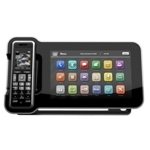 The Verizon Hub is an ongoing experiment of trying to integrate a web 2.0 app culture into wireline phones – almost mimicking the iPhone experience for home phones. Verizon is not alone – AT&T has a version and so does Comcast. I like to call them broadband phones. Apparently Verizon's seen enough of the experiment though.
Dave Zatz is reporting on his Zatz Not Funny blog that Verizon is discontinuing the Hub. A visit to the Verizon Hub web page gives you a 'page is unavailable' error. I agree with Zatz's assessment that the Hub was probably over priced ($200), especially in this economic climate. How many people would be willing to fork over that much dough for a phone you can't carry with you these days? My guess is few and far between. There are also a growing number of iPhone docking stations that can match or beat the Hub and phones like it.
I suspect Verizon is also focusing more wireline phone product development with FiOS Digital Voice (FDV). FDV is a feature rich IP voice product which doesn't require a $200 device investment. It's Verizon's answer to cable's success with IP voice products.
If Verizon has indeed killed the Hub, how long before AT&T does the same with its Home Manager?