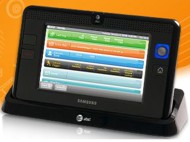 AT&T announced the launch of Home Manager, "an innovative home phone that combines access to Internet content and popular wireless phone applications with traditional home phone service." Home Manager looks like a "fourth screen" strategy, where the home phone "screen" joins the Internet/computer, cell phone, and television screens as a purveyor of content. Home Manager uses a portable broadband connected seven-inch color touch screen for access to a variety of features and content, including visual voicemail, weather reports, e-mail access, local news, a portable speakerphone and more. Features include:
Address Book Synchronizing – synchs address books across the touch screen and home handset with AT&T mobile phone contacts
Web Based Information Listings – access to weather, e-mail, stock profiles, sports, news, photos, movie listings, recipes and more
AT&T Yellow Pages – free, unlimited access to White Pages and Yellow Pages online directories, which can also be uploaded to cell phones and email
Visual Voice Mail – see and listen to messages via a single wireline-wireless mailbox on both the touch screen and cordless handset, which is compatible with AT&T U-verse Voice and AT&T Unified Messaging
Digital Picture Frame – displays digital photos on the frame as a slide show or screen saver
The new application is similar to efforts put forth by Embarq, and their eGo product. Both are designed to add value to wireline phone service, and hopefully give customers reasons to keep their telco wireline service, rather than forgoing it entirely for wireless only, or churning over to cable and VoIP competitive offerings. "We're building on the reliability of our wireline platform and advancing it with touch screens, mobile phone applications, visual voicemail and more. A phone today is not just for talking — it's about having the content and the information that's important to you right at your fingertips," said Brian Shay, senior vice president, Converged Services for AT&T in a company statement. The application will sell for $299, and includes the portable touchscreen, one integrated cordless handset and one base station. It's currently available in about nine markets. 3screens.net, a blog focused on AT&T services, offers an interesting independent review of Home Manager – well worth a read. The service seems quite interesting and will peak the interest of some, but the $299 threshold seems quite high, especially in these uncertain economic times. This will be an interesting one to watch.