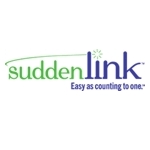 With little fanfare outside individual local markets, Suddenlink has been quietly rolling out gigabit service in recent months. A Suddenlink spokesman told Telecompetitor Friday that the company now has made service available in about two dozen markets, with plans for several more before the end of the year.
Suddenlink offers cable, voice and Internet service in parts of several states, primarily in the Southwest and Mid-Atlantic. The company announced plans to deploy gigabit service  just over a year ago, launching its first markets a few months ago and rolling out additional markets since then.
Suddenlink is expected to be acquired by multi-national network operator Altice, which has said that it supports Suddenlink's gigabit plans.
Suddenlink Gigabit
The cost of Suddenlink's service is about $100 a month, the spokesman said. "Customers who need less or wish to pay less can choose from one of our other robust speeds, starting at 50 Mbps up to 200 Mbps," he added, also noting that discounts are available through new customer promotional offers and bundling with other services.
Some cable companies have been waiting for DOCSIS 3.1 before making any broad gigabit deployments. The latest generation of hybrid-fiber coax data communications technology, DOCSIS 3.1 is expected to be widely available next year. But Suddenlink is one of several cable companies, including Mediacom  and GCI, that are using DOCSIS 3.0 to deliver gigabit service.
The Suddenlink spokesman said the company will make appropriate decisions about DOCSIS 3.1 when it becomes available but that "DOCSIS 3.0 is scalable to provide up to 1 gig service, and is serving our customers well who have ordered that service."