Bluebird Networks, operator of a fiber network spanning several Midwestern states, said it has signed an agreement to purchase Illinois Network Alliance, which operates a network in that state.
INA is owned by several smaller Illinois telecom service providers.
Bluebird already managed INA but according to an announcement of the purchase plans, "this new ownership role will enable Bluebird to strategically expand its capabilities and offerings between INA and other Bluebird infrastructures." The company said it will expand further into new and underserved areas.
Bluebird sells network services to telecom service providers and to enterprises. The INA assets will bring Bluebird's fiber route miles to 9,300, according to the press release about the acquisition. The network also will have over 15 points of presence, including some in major cities such as Chicago, St. Louis and Kansas City.
In addition to operating a fiber network, Bluebird also owns an underground data center in Springfield, Mo.
A History of Consolidation
This isn't the first time Bluebird has played the role of fiber network consolidator. Bluebird Network was formed through a 2011 merger of Missouri Network Alliance, a statewide network owned by more than a dozen independent telcos, and Bluebird Media, a company that won a broadband stimulus grant to build a middle mile network in the area.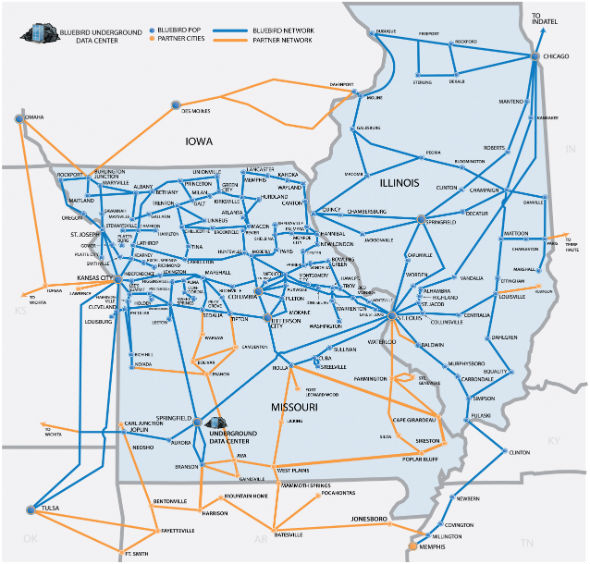 Since earlier this year, Bluebird Network has been owned by Macquarie Infrastructure Partners, a long-term infrastructure investment fund. In connection with that deal, Macquarie purchased a Midwestern fiber business formerly owned by PEG Bandwidth and which Bluebird now operates.
The Macquarie deal was a complex one that also called for Bluebird's fiber and copper network assets to be acquired by Uniti Group, the telecom real estate investment trust that was spun out of Windstream several years ago. Bluebird then leases the assets from Uniti Group. Importantly, Uniti Group doesn't own the transmission equipment that enables the fiber and copper to carry communications signals. REIT assets are non-taxable and the company selling its assets to the REIT gains money for network investment while still maintaining a high level of control over the assets.