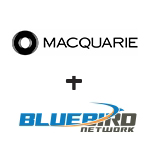 The Bluebird Network says that its acquisition by Macquarie Infrastructure Partners, a large infrastructure fund, has closed.
Bluebird will gain a 2,500 fiber route mile extension to its networks in Illinois. The expansion includes Rockford, Peoria, Bloomington, Normal and the Quad Cities. Further expansion will occur over time. The company also said that its underground data center in Springfield, Mo. will undergo its second expansion to increase power and space availability.
"As bandwidth needs continue to rise, fiber has become the essential backbone for high-performance connectivity networks," said MIP CEO Karl Kuchel in a press release.
The initial deal between Bluebird and Macquarie was announced in January. At that time, telecom real estate investment trust Uniti Group said it would sell its Uniti Midwest network to Macquarie and would purchase Bluebird's fiber holdings, which will be leased back to Macquarie/Bluebird. The existing Bluebird management team was to manage both the Bluebird network and the Uniti Midwest network.
In May, Bluebird completed a fiber build in Weldon Spring, Mo. The project, which is in the St. Louis area, began the previous May. Also this May, Bluebird and Megaport Limited partnered to enable private access to cloud providers including AWS, Microsoft Azure, the Google Cloud, the Oracle Cloud, the Alibaba Cloud, the IBM Cloud, Nuanix ans Salesforce.
Bluebird was established in 2011 via a merger of the Missouri Network Alliance, a statewide network owned by more than a dozen independent telcos, and Bluebird Media. The latter won a broadband stimulus grant to build a middle mile network in the area. Bluebird Network is equally owned by the telcos and Bluebird Media.