Google just introduced new Google Fiber business pricing plans that will add yet another competitive implication to their move into the broadband access business. The new plans start at $70/month for a 100 Mbps plan, which includes a router and WiFi gateway. That could be considered disruptive pricing for small business connectivity.
Additional plans were also introduced including a $100 plan for 250 Mbps and a $250 plan for a full Gigabit. All plans include the router, WiFi gateway, and a firewall.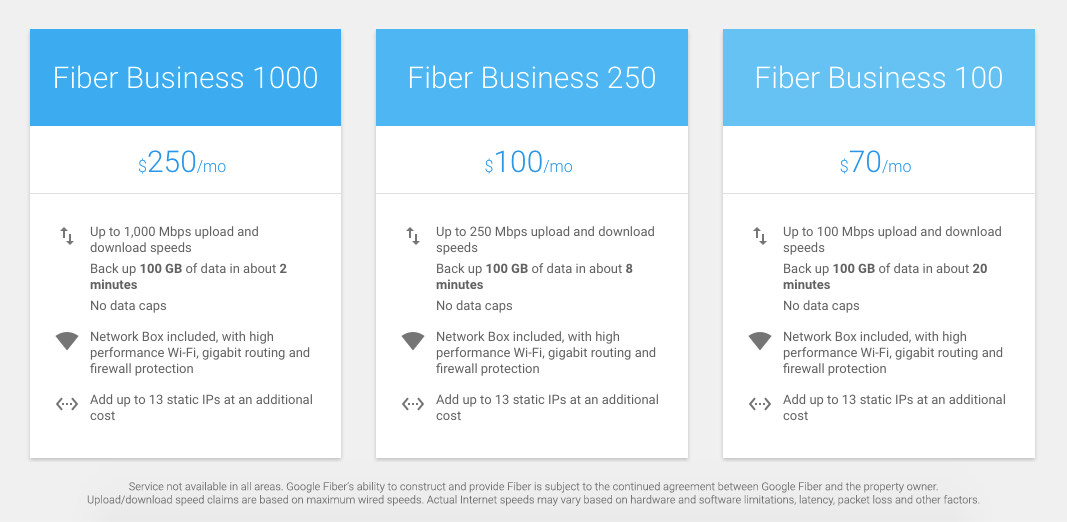 Google Fiber has been slow to provide business class services. They focused on residential first, and introduced a limited Early Access Program for businesses in 2014. These updated Google Fiber business pricing plans are the next evolution.
Their availability is still limited though. According to the Google Fiber blog, businesses in Charlotte, Kansas City, Provo, Austin, and Nashville can input their address on the Google Fiber small business site to see if their location qualifies.
"We've always believed that small businesses can do big things with superfast Internet," says Google Fiber on their blog. "From a media company that now conducts virtual jam sessions to a coffee house that livestreams their community events, we've seen many unlock new possibilities with a speedy, reliable connection."
Google Fiber seems to be solely focused on the SMB community, with no announced plans to serve enterprise sized business customers.