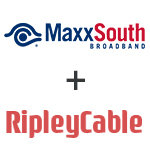 Block Communications, the parent company of MaxxSouth Broadband, said late yesterday that it plans to acquire Ripley Video Cable. The MaxxSouth Broadband, Ripley deal will bring together two companies that provide broadband and video service in Mississippi. MaxxSouth also provides service in parts of Alabama.
MaxxSouth Broadband, Ripley Deal
MaxxSouth Broadband had its genesis in Block Communications' 2014 purchase of Harron Communications (MetroCast) properties. Since then, MaxxSouth Broadband has been quite aggressive on the deployment front, having launched gigabit service in multiple markets.
Ripley Video Cable was formed in 1965.
According to a press release announcing the deal, MaxxSouth plans to upgrade the Ripley network to support faster broadband, to offer a wider selection of video channels and to launch a complete suite of advanced business services.
"We are proud to pass the torch on to another family-owned company that enjoys a long, successful history in the telecommunications industry," said Leon Bailey, Jr., of Ripley Video Cable.
A Broad Trend
The MaxxSouth Broadband, Ripley deal comes just days after a similar deal united two Wyoming companies, putting Sweetwater Television Company in the hands of All West Communications.
And there have been numerous examples of other rural broadband consolidation deals in the last year or so, including the Colane Cable/ Shentel deal, the WOW/ NuLink deal and others.
These deals reflect the importance of scale in the broadband and video markets in a rural broadband market that has become increasingly challenging.