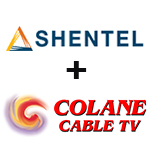 A Colane Cable TV acquisition by West Virginia based Shentel comes on the heels of a major wireless acquisition by the growing rural broadband provider. Colane Cable TV  is a cable company offering a triple play bundle to several West Virginia communities. Shentel is a growing rural broadband provider with wireless, cable, and telecom network assets, and is the largest Sprint PCS affiliate in the country (post NTELOS acquisition).
The Colon Cable TV acquisition will cost Shentel $2.4 million, a relatively low valuation for Colon's 3,680 customers and 8,660 homes passed. Shentel says it intends to invest heavily in Colane's markets, committing to "…making significant upgrades which will offer faster Internet speeds, additional HD video channels and reliable phone service."
"We are pleased to be able to expand our cable business in West Virginia," said Earle MacKenzie, Chief Operating Officer at Shentel in a press release.  "Our planned multi-million dollar investment will allow Shentel to offer a robust triple play including 101 Mbps of Internet to the residents and businesses in the Colane communities."
Colane markets are adjacent to some existing Shentel markets, allowing for a smooth transition, reports Shentel. The rural broadband provider is no stranger to cable acquisitions, making several in the past ten years, including Jet Broadband in 2010 for $148 million.  Currently, Shentel has over 73K cable customers, passing 172K homes, with cable operating revenue of over $24 million (as of 3Q15).
The Colane Cable TV acquisition follows a similar trend for ongoing rural broadband consolidation, where individual rural broadband providers are opportunistically acquiring neighboring service providers to build scale and grow revenue.
Shentel is probably best known for their wireless moves. In 2015, they announced a transaction with regional wireless provider NTELOS and Sprint, valued at over $600 million. Shentel's wireless service is branded as Sprint and post-acquisition covers over 5 million POPS, with 1 million subscribers. Shentel generated $85 million in wireless service revenue in 3Q15.