Two mid-Atlantic regional wireless providers are coming together, with news that Shentel will acquire NTELOS for approximately $640 Million, including net debt. The two providers are geographically positioned next to each other and were both affiliates of Sprint in one form or another. The deal had been rumored  for some months. When completed, the transaction will more than double Shentel's size, by number of subscribers.
NTELOS shareholders will receive approximately $208 million in cash, or $9.25 per share. The deal is inclusive of approximately $431 million in NTELOS debt. It's a decent payday for NTELOS shareholders (depending on when they got their position), representing an approximately 60% premium over the 30 day volume weighted average price of their stock price as of August 7, 2015.
Sprint is Heavily Involved
It's somewhat of a complicated transaction and Sprint is heavily involved. Concurrent with the acquisition, Sprint entered into an agreement with Shentel that modified their existing affiliate relationship with the West Virginia based carrier.
Upon closing of the Shentel-NTELOS transaction, Sprint will get certain NTELOS spectrum assets covering 5.4 million people in parts of Virginia, West Virginia, Pennsylvania, Maryland, Ohio, Kentucky and North Carolina. Existing NTELOS subscribers will become Sprint affiliate customers (through Shentel). Additionally, 290K current Sprint customers will become Shentel Sprint affiliate customers, bringing an additional 581K subscribers under Shentel.
Shentel agrees to continue to upgrade the NTELOS footprint for 4G LTE, including adding approximately 150 additional 4G LTE sites, using the spectrum acquired by Sprint, but made available for Shentel's use. All NTELOS branding will shift to Sprint, including 38 retail wireless stores, that will now be managed by Shentel.
Shentel's payments to Sprint, as a part of their revised affiliate agreements, will be reduced by $252 million over the next five to six years. There's additional financial considerations from Sprint with this deal that results in Shentel's net transaction amount for NTELOS to be about $330 million, according to Shentel.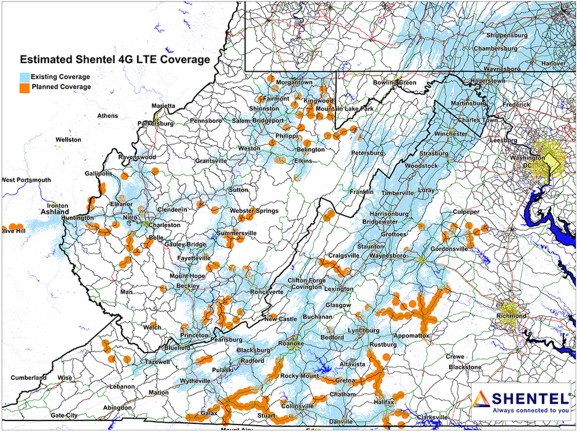 Upon closing, Shentel's wireless segment is "…expected to serve a licensed market area with a total population ("POP") of 5.4 million, a network that covers 4.3 million POPs and total subscribers of over 1 million," according to a Shentel press release. Shentel currently serves approximately 435,000 subscribers.
NTELOS has been shedding assets for the years preceding this transaction. They sold off their spectrum in eastern Virginia markets, including Hampton Roads and Richmond, to T-Mobile in 2014. They also recently sold most of their towers.
The deal has been approved by both company's boards of directors. Shareholders will need to approve the deal, as will state and federal regulators. The deal is expected to close in early 2016. Shentel has already set up a website for NTELOS customers and other interested parties at www.WelcomeToShentel.com.