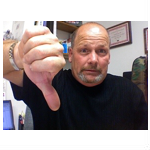 Small and medium-size business customers  increasingly are reporting problems and asking questions of their telecom carriers regarding wireless network quality, J.D. Power & Associates found in its "2012 U.S. Business Wireless Satisfaction Survey."
The report, which focuses on the SMB market, found that over the past six months, 83% of all business wireless customers contacted their carriers with a problem or question. That's up from 76% in 2011. Network quality issues were the leading subject of customer complaints and inquiries. More specifically, the most customer complaints and questions had to do with connection issues, such as dropped/disconnected calls and Internet email failures.
Now in its eighth year of publication,the  J.D. Power report found that 27% of small- and medium-sized businesses (SMBs) reported problems with dropped or disconnected calls, a 30% increase from 2011, while 18% reported issues with Internet/email failure. That's nearly double 2011's 10%.
Business customers have more employees using data services plans, high-speed broadband plans in particular, which leads to differences in network quality issues. The rate of business segments using data plans has increased to 82% in 2012 from 67% in 2011, J.D. Power points out. Twenty-seven percent of business subscribers said they have subscribed to mobile broadband data plans this year.
"It's clear that the need for business customers' employees to stay connected for day-to-day business activities has risen considerably over the years," said Kirk Parsons, senior director of wireless services at J.D. Power and Associates, in a press release. "The ability for those employees to stay connected and productive while traveling, commuting or otherwise out of the office provides a competitive advantage over those businesses whose employees are not able to stay connected or otherwise be as productive."
Meeting business customers' quality-of-service expectations is crucial for telecompetitors, adds J.D. Power. Of those business customers who experience network-quality issues, 34% said they were likely to switch providers in the next 12 months. That's  nearly 3x higher than average, according to the market research firm.
Rating SMB wireless providers based on survey responses J.D. Power found that Verizon Wireless ranked highest in customer satisfaction, scoring particularly highly in performance/reliability and offerings/promotions. Sprint and T-Mobile followed closely behind.
Examining SMB wireless usage patterns, J.D. Power found:
In 2012, 33 percent of business customers have purchased handsets for their employees, but allow them to choose from a selected group of models, compared with 19 percent in 2010.
Just 8 percent of business customers have experienced mobile security issues within the past six months. The study finds little additional negative impact on mobile security when businesses policies allow employees to use their personal devices.
Image courtesy of flickr user m!les.