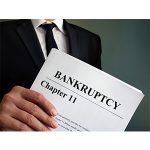 Frontier Communications filed for Chapter 11 bankruptcy late Tuesday evening, labeling the event a Restructuring Support Agreement (RSA). The move has been expected, as Frontier was saddled in debt from previous Verizon network acquisitions and suffered from high churn due to over dependency on legacy slower DSL service, and poor overall customer service.
The company plans to continue its national operations uninterrupted while restructuring. Frontier currently serves 2.6 million broadband customers, 1.5 million of which are served by legacy DSL. Eligible locations that can receive Frontier service number 16.3 million.
The Frontier Chapter 11 plan, filed in the Southern District of New York, aims to reduce the company's debt by $10 billion. Frontier reports that 75% of its unsecured bondholders have agreed to the RSA terms. If approved, the bondholders would see their debt converted to equity. Shareholders of Frontier common stock won't be so lucky, as those shares will become worthless. Total Frontier debt is approximately $17.5 billion, according to a Bloomberg report.
The company has been negotiating with bondholders for some time. Those negotiations included admitting that lack of fiber broadband investment and over reliance on legacy DSL service contributed to its need to restructure.
The company also secured $460 million in debtor-in-possession ("DIP") financing, and when combined with normal operating cash flow, should allow the company to continue its operations. Frontier says it will continue to pay its vendors throughout the Chapter 11 proceedings.
"We are undertaking a proactive and strategic process with the support of our Bondholders to reduce our debt by over $10 billion on an expedited basis. We do not expect to experience any interruption in providing services to our customers," said Robert Schriesheim, Chairman of the Finance Committee of the Board of Directors in a press release. "With a recapitalized balance sheet, we will have the financial flexibility to reposition the Company and accelerate its transformation by allocating capital resources and adding talent to enhance our service offerings to our customers while optimizing value for our stakeholders."
The Frontier Chapter 11 filing is not expected to interfere with the company's sale of its Northwest operations in Washington, Oregon, Idaho, and Montana to Northwest Fiber (WaveDivision Capital). That $1.352 billion transaction is still expected to close on April 30th, resulting in the emergence of Ziply Fiber.