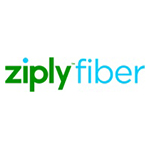 A new broadband provider, Ziply Fiber, will begin operations in the Northwest states of Washington, Oregon, Idaho and Montana this Spring.
Ziply was born from Frontier's Northwest operations when WaveDivision Capital bought those operations from Frontier for $1.3 billion last year. The Frontier transaction is expected to close April 1.
Ziply will be a significant broadband player, with close to 300K broadband subscribers, 270K residential and 25K commercial, on day 1.  According to the company, 31% of its homes passed are fiber capable. Ziply aims to get that number to 80% over the next few years and has committed $100 million towards network upgrades.
Ziply Fiber
Ziply Fiber will offer residential triple play services, as well as business and wholesale connectivity. According to the Ziply website, Ziply pricing will match current Frontier pricing, at least for the time being. Ziply is emphasizing no disruption in service for the cutover, an issue of heightened concern in a COVID-19 environment.
Washington state will be Ziply's largest market, with close to 960K passings. Montana is its smallest, with 11K passings. Total passings across all markets are 1.6 million. The company plans to have 1,200 employees, 980 of which will come from Frontier.
Ziply will be led by Harold Zeitz, the former president and COO of Wave Broadband. Steve Weed, founder of Wave Broadband, will serve as Ziply's chairman. Ziply's parent company, WaveDivision Capital, has significant investments in other broadband properties across the country, including RCN/Grande and Hargray. Ziply Fiber will be based in Kirkland, Washington.