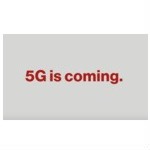 Verizon CEO Lowell McAdam announced today that Houston is the latest Verizon 5G market, with fixed 5G wireless service expected to launch later this year. Houston joins Los Angeles and Sacramento as announced Verizon 5G markets so far.
"It is with great pleasure that we announce here today Houston as the third of our four initial commercial launch markets for our 5G residential broadband service, that will be rolled out later this year," McAdam announced from Houston during the company's quarterly earnings conference call report.
Verizon says they see a fixed 5G opportunity that will eventually pass 30 million homes. Serving Houston and Los Angeles, two of the top five markets in the U.S., should certainly help achieve this goal. Verizon has announced 3 of what is expected to be 4 initial Verizon 5G markets.
Incoming Verizon CEO Hans Vestberg, who will be replacing McAdam, recently shared more details about Verizon's fixed 5G. Trials have demonstrated range of 1900 – 2000 feet for their millimeter wave spectrum, which Verizon will use for these fixed 5G services offering residential broadband services.
"It's a combination of antennas, beams, reflections and all of that," Vestberg explained at the MoffettNathanson Media & Communications Summit in May of this year.
Verizon has seen speeds in the 1 Gbps range, although Verizon hasn't detailed any broadband speed tiers or pricing plans for fixed 5G. Verizon will be using their own proprietary 5G specification but do intend to migrate to the 3GPP 5G standard.
"As we said from the beginning, we will have an initial commercial launch of four markets this year that's going to be based on our software that we developed in the beginning," said Vestberg on the conference call. "We are preparing the whole network, the intelligent edge network, to be ready to launch 5G based on the NR standard that is coming out right now."
Verizon 5G Video Moves
Verizon also intends to bundle some form of OTT video streaming service with their fixed 5G service. Bloomberg reports that Verizon is in discussions with Google/YouTube and Apple regarding video. Google operates YouTube TV, a streaming vMVPD. Apple does not have a current streaming service, but is rumored to be exploring the launch of one, perhaps similar in scope to Amazon's Prime Video.