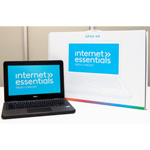 Comcast, in its second move in a week to upgrade its Internet Essentials program, said that it is joining forces with Dell Technologies in support of the program.
Internet Essentials aims to confront the digital divide. Under the terms of the agreement, Dell will provide more than 2,500 free laptops to students, seniors, veterans and adults in need. The company also will fund upgrades to 15 computer labs at nonprofits across the country, including two senior centers in Houston.
"The research on the causes of the digital divide is very clear," David L. Cohen, Comcast NBCUniversal's Senior Executive Vice President and Chief Diversity Officer said in a press release. "One of those reasons is that many low-income households either do not own a laptop or cannot afford to buy one. As a result, this initiative with Dell Technologies will help us connect more households to the Internet at home so students can do their homework, parents can look for and apply for jobs, and veterans and seniors can keep in touch with friends and family who may be scattered around the world."
The announcement will be made in Houston. While in the city, the companies will give laptops to 20 low-income veterans, 100 seniors, and 90 high school students at thePresinct2Gether East Harris County Activity Center and to 90 students in the Eight Million Stories program, which helps previously incarcerated youth obtain the skills and community connections needed to integrate back into society.
On Tuesday, Comcast announced what it says is the biggest expansion of the Internet Essentials program since it was formed. The move will add about 3 million households to its footprint. These include homes with residents with disabilities and low-income households.
The additional coverage will bring the number of households eligible for Internet Essentials to almost 7 million. Internet Essentials has connected more than 8 million people from 2 million households during the past eight years, including 600,000 in Texas, Comcast said.