In what Comcast says is the biggest expansion ever of Internet Essentials, all qualified low-income families in the cable company's service area now will have access to the service, which offers low cost broadand other elements targeting low-income users.
Approximately 3 million households –which include residents with disabilities in addition to low-income households — will be able to apply. The expansion will bring households eligible for the program to almost 7 million.
"The Internet is arguably the most important technological innovation in history, and it is unacceptable that we live in a country where millions of families and individuals are missing out on this life-changing resource," said David Cohen, Senior Executive Vice President and Chief Diversity Officer of Comcast NBCUniversal, in a press release. "Whether the Internet is used for students to do their homework, adults to look for and apply for new jobs, seniors to keep in touch with friends and family, or veterans to access their well-deserved benefits or medical assistance, it is absolutely essential to be connected in our modern, digital age."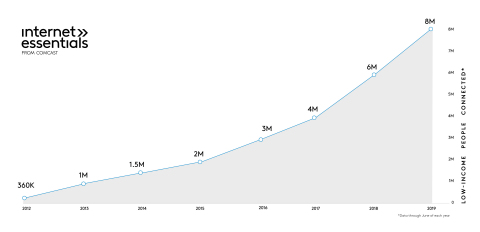 Eligibility is based on demonstrating participation in any of more than 12 government programs, including Medicaid, the Supplemental Nutrition Assistance Program (SNAP) and the Supplemental Security Income (SSI) program. Internet Essentials is open to households with a student eligible for the National School Lunch Program, and to those who live in public housing, who receive HUD Housing Assistance (including Section 8 vouchers), who are in the Veterans Pension Program or who are low-income seniors or community college students in select pilot markets.
The service appears to be having its intended effect. Last year, Comcast said that 62% of low-income broadband customers say that the service has helped them or someone in their family find a job. And 93% of those surveyed said that the program has positively impacted their child's grades. Almost all respondents – 98% — said that they use the service for schoolwork and 90% say they use it almost every day.