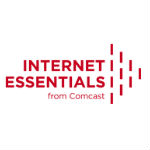 Nearly two-thirds (62%) of Comcast Internet Essentials low-income broadband customers say the service has helped them or someone in their family find a job, according to a new report from Comcast. In addition, 93% of survey respondents said the service has had a positive impact on their child's grades.
In addition to releasing the report today, Comcast also said it has expanded program eligibility to an additional one million veterans and that it has relaunched its online learning center with new digital literacy and internet safety tools and resources. The company also announced that U.S. Olympic medalists Jocelyne Lamoureux-Davidson and Monique Lamoureux-Morando will join a multi-city tour to promote Comcast Internet Essentials.
Comcast Internet Essentials
Comcast was required to launch a low-income broadband service seven years ago as a condition of its merger with NBCUniversal. Over the years, the cable company has expanded the program numerous times, making more and more groups eligible for the service and offering higher speeds.
The service costs $9.95 a month and currently provides speeds of 15 Mbps, according to a Comcast website. Comcast Internet Essentials also offers computers for $150 for qualified customers.
Comcast Internet Essentials now connects six million people, according to today's press release.
Other data points from the Comcast Internet Essentials progress report released today:
98% use the service for schoolwork
90% use it every day or almost every day
The revamped learning center for Comcast Internet Essentials now includes new content from Common Sense Media and ConnectSafely.org. Among the new features are free videos, tools and resources about internet safety and digital skills.
Comcast isn't the only broadband provider that offers a low-income program. Several others were required to offer similar programs as a condition of approval for various mergers. But Comcast is the company that seems to have embraced the low-income broadband concept the most whole-heartedly.