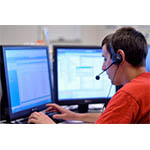 While COVID-19 unemployment applications continue to pile up, one company that is hiring is Verizon, which plans to hire 950 new customer service representatives (CSRs) for home-based positions. In an interview with Telecompetitor, Verizon Senior Vice President and Head of the Consumer Customer Service Team Nancy Clark told us what's driving the plans and how all 12,000 CSRs supporting the company's wireless business now work from home.
Amid the COVID-19 crisis, "service has become more important than ever," said Clark. As more people stay home, their smartphone and service have become a critical link with work, school, friends and family, she noted.
And because more people are staying home, they are more likely to call customer support and less likely to visit a Verizon retail outlet than in the past – which has driven the need for more CSRs.
When COVID-19 hit, about 4,000 of the CSRs were already working from home, while 8,000 worked in a traditional call center, Clark explained. Because the company already had experience with home-based CSRs, it was relatively straightforward to send the others home as well.
Home-based CSRs are required to work from a "private" area that's free of distractions and noise, Clark said.
"We want the ability to focus on the customer," she commented.
Verizon Hiring 950
Video interviews will be critical to Verizon hiring plans for the new CSRs.
"First and foremost, we look for individuals to represent our brand… and everything we stand for," said Clark.
"Verizon is recognized as a premium brand," she added – and customer service is part of the company's value proposition.
CSRs should be able to "effectively communicate and build relationships," as well as to have "critical thinking and problem solving" skills, Clark said.
Those hired will get five weeks of remote training via videoconference, followed by a seven-week transition period when they will work with a coach. After a total of 12 weeks, new CSRs are assigned to a supervisor and a team.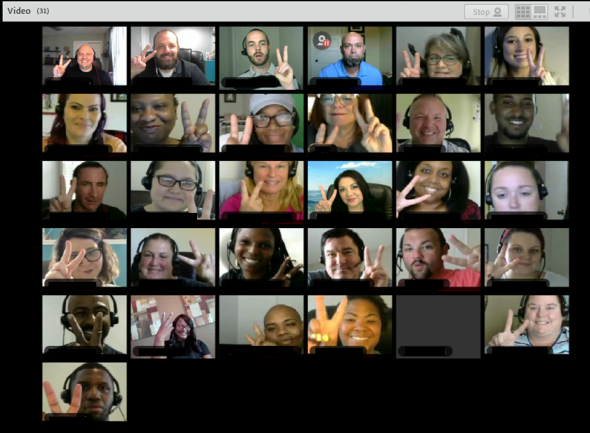 CSRs typically start by handling calls involving account management and billing. As they gain experience they may move on to device support and eventually advanced tech support.
When a customer calls for support, Verizon attempts to route the call to an appropriate CSR based on the customer's recent history. If, for example, a bill just went out to the customer, the call would be sent to a CSR who has a focus on billing. If the person just bought a new phone, the call would be sent to a CSR who focuses on device support.
CSRs are paid a "market-competitive" salary, a Verizon spokesperson explained in an email to Telecompetitor. The spokesperson added that salary is part of a complete Verizon Total Rewards program that includes benefits, learning and development, paid time off and work/life balance.
The CSR positions may be particularly well suited to supporting a work/life balance, Clark noted. For example, she noted that some parents appreciate being able to work a split shift, putting in several hours in the morning and additional hours later on, enabling them to spend time with their children at times when it's most important to do so.
All Verizon CSRs are U.S.-based, although the company may supplement its CSR workforce at busy times by using outside suppliers that may have CSRs outside the U.S.
Image courtesy of flickr user tyle_r.