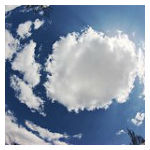 Two announcements this week remind us of how important Ethernet and cloud services growth is for Tier 2 and 3 telcos. Syringa Networks announced it had achieved Carrier Ethernet 2.0 certification for several services.
Additionally,  Consolidated Communications announced new metro markets for its cloud offerings. A Consolidated spokeswoman told Telecompetitor that the carrier now offers cloud services throughout all of the markets it serves.
Syringa and Carrier Ethernet
Syringa is owned by a group of Tier 3 service providers. The company operates a network in several western states that supports a wide range of services for business customers. Syringa announced this week that it had obtained MEF Carrier Ethernet 2.0 certification for E-Line and E-Access services.
E-Line is a point-to-point offering that is typically sold to businesses. E-Access is a last mile connection typically sold to another service provider. The Carrier Ethernet 2.0 standards aim to bring consistency to Carrier Ethernet services. The goal is to eliminate the need for buyers to negotiate service parameters for every service provider with which they do business.
"These certifications allow our customers to feel confident and secure in selecting Syringa Networks for their mission critical communications," said Syringa CEO Greg Lowe in this week's announcement.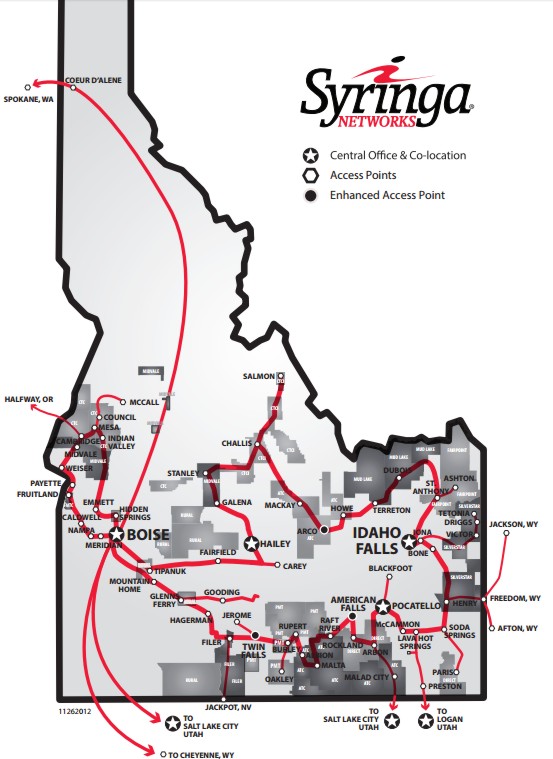 It's relatively unusual for an individual Tier 3 carrier to obtain Carrier Ethernet 2.0 certification. The reason is that certification involves a substantial resource commitment. Syringa and regional fiber networks like them were formed by tier 3 providers to bring scale to the equation and allow them to collectively achieve milestones like Carrier Ethernet 2.0.
Syringa's decision to obtain the certification suggests the company is doing considerable business – or sees considerable opportunity — in the Tier 2 and 3 business services market. Lowe noted that the company operates "with the certifications of the largest carriers but with the responsiveness of a local provider."
GVTC of Texas also recently made moves to capture market share for Ethernet and cloud services growth.
Consolidated and Cloud Services Growth
As for many Tier 2 and 3 companies, "broadband and business" has been the mantra for Consolidated Communications in recent years. Tier 2 and 3 business services have become increasingly important as the traditional telecom voice business erodes. Consolidated has made several acquisitions in pursuit of the business market.
One of these was Enventis, a Tier 3 company that was already executing a cloud services growth plan. Those services comprised a platform for further development after the acquisition by Consolidated, the Consolidated spokeswoman said today. Consolidated's cloud offerings include Unified Communications, Cloud Compute, Data Protection and Cloud WiFi.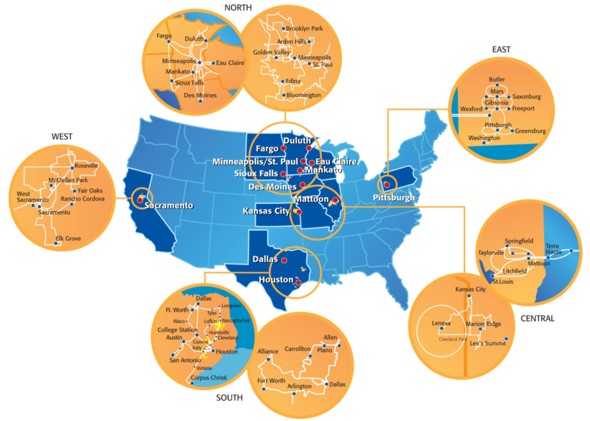 "While all of these products were originally launched under the Enventis name, they have all been modified and enhanced prior to this expansion," the spokeswoman said. The goal, she said, is "to continue to provide our customers a better experience and to stay ahead of their communications needs."
Enventis originally launched the services in Minnesota, as well as Fargo, N.D. and Des Moines. Since then Consolidated has added six additional markets, several of which were announced this week. In addition to the original markets, the cloud offerings are now available in Dallas; Houston; Kansas City, Mo.; Mattoon, Ill., Pittsburgh and Sacramento.
The expansion suggests that like Syringa, Consolidated is focused on leveraging Ethernet and cloud services growth momentum.