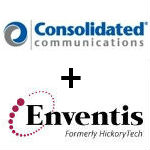 Consolidated Communications expects its planned merger with Enventis, announced today, to create "organic growth" opportunities, said Consolidated Chairman and CEO Bob Currey on a conference call with press and analysts this morning.
Enventis's 4,200-mile fiber network and the strong demographics in its Minnesota and North Dakota markets will be important to those growth opportunities, Currey said. Unemployment is just 3% to 4% in Enventis's key markets and the area is seeing "strong commercial growth," he noted.
The merged company will be in a good position to pursue "success based opportunities," said Consolidated President and Chief Operating Officer Bob Udell.  Telcos typically use the term "success based" to describe revenue opportunities that require only minimal capital investment, which can quickly be recovered, suggesting that Consolidated sees opportunities to extend Enventis's fiber network to generate new revenues.
Enventis has seen strong growth from fiber and data since 2011 – with revenues seeing a compound annual growth rate of 14% during that period, Consolidated noted.
The Consolidated /Enventis Merger
Both Consolidated and Enventis, originally known as HickoryTech, began life decades ago as local telephone service providers — and as that business has declined in recent years, both companies have gained substantial new revenue sources in the broadband and business markets. Those markets are widely viewed as the best growth opportunities for telcos that lack wireless businesses.
Consolidated said recently that it now gets 80% of its revenues from broadband and business – and according to a slide presentation used on today's call, that number would be 78% for the merged company.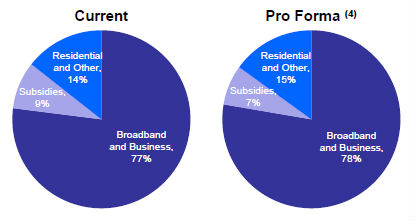 Another similarity between Consolidated and Enventis is that both companies have made some significant acquisitions in recent years. Consolidated in 2012 purchased SureWest Communications and Enventis in the same year purchased a competitive local exchange carrier known as IdeaOne.
One key difference between the two companies, however, is that Consolidated is a price cap carrier and Enventis is a rate of return carrier. On today's call, Consolidated CFO Steve Childers said the company hopes to retain the ROR status in Enventis serving areas.
Some people argue that current Universal Service policies favor ROR carriers – although that situation may be changing as today's voice-focused fund transitions to a broadband-focused Connect America Fund.
The planned merger, valued at $350 million, is expected to close in fourth quarter.