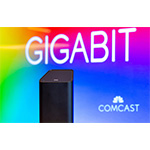 Comcast says its Gigabit internet service reach has expanded to nearly 58 million homes and businesses, which the company says makes it the largest U.S. gigabit service provider. Comcast gigabit service is enabled primarily through DOCSIS 3.1 technology, although the cable conglomerate does have some limited FTTP deployments as well.
The company added that it has doubled its broadband capacity every 18-24 months, while increasing speeds 17 times in 17 years. Today, 75% of Xfinity Internet customers choose plans with speeds of 100 Mbps or more, double the speed those customers took just three years ago, according to Comcast.
On the in-home front, Comcast's residential broadband service features Xfinity xFi, a digital dashboard that personalizes, monitors and manages Wi-Fi home-based connected devices. Additionally, consumers can now add extenders, known as xFi Pods, which plug into any electrical outlet to extend service to hard-to-reach areas of the home.
Outside the home, Comcast Xfinity Internet customers have access to more than 19 million WiFi hotspots, the company said.
"Comcast continues to offer an unmatched Internet experience that combines gigabit speeds with wall-to-wall WiFi, personalized tools and controls, and enough capacity to stay ahead of tomorrow's innovations," said Dana Strong, Comcast president of consumer services, in a prepared statement. "We've built an innovative high-speed data platform that combines speed, coverage and control features and really sets our broadband experience apart from the competition."
X1 Platform Enhancements
The company is growing in other areas as well. We reported in August that Amazon and Comcast would launch Prime Video on the cable operator's X1 platform, providing additional X1 OTT options by the end of the year, marking the first time that Amazon Prime Video would be integrated into an MVPD platform in the U.S., according to the companies.
Comcast is busily enhancing its X1 platform to include OTT and SVOD options, presenting customers with a single interface to access traditional pay-tv, VOD, and OTT/SVOD services. Amazon Prime Video will join Netflix and YouTube as X1 OTT options for Comcast video subscribers.