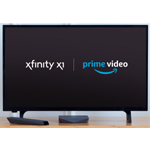 Amazon and Comcast announced that Prime Video will launch on the cable operator's X1 platform, providing additional X1 OTT options. This will mark the first time that Amazon Prime Video will be integrated into an MVPD platform in the U.S., according to the companies.
Comcast is busily enhancing their X1 platform to include OTT and SVOD options, presenting customers with a single interface to access traditional pay-tv, VOD, and OTT/SVOD services. Amazon Prime Video will join Netflix and YouTube as X1 OTT options for Comcast video subscribers. Prime Video will launch on X1 later this year.
"Amazon Prime Video's growing list of originals, movies, shows, documentaries, and kids' programming will be an excellent complement to the overall X1 viewing experience," Dana Strong, Comcast's President of Consumer Services, said in a press release. "We want to give customers easy access to all their favorite content in one place. X1 continues to be a platform that can curate live TV, On Demand movies and shows, and streaming internet video and music titles into one, easy-to-use, seamless experience."
Subscribers will be able to:
Watch original programming such as "Goliath" and "Sneaky Pete," "Killing Eve," NBC's "Shades of Blue" and Showtime's "The Affair," "Mr. Robot" and "American Horror Story."
Access Prime Video's growing library of 4K HDR content with a compatible X1 set-top box.
Watch recent hits like "Suits," "The Americans," "Downton Abbey" and "The Good Wife" or complete seasons of classics like "Friday Night Lights" and "Dawson's Creek."
Access titles for rental or purchase and add on a selection of over 160 Prime Video Channels, including Showtime and STARZ.
The move highlights an evolving video strategy for the largest cable MSO in the country. Comcast is beginning to feel competitive heat from cord cutters and consumers who are opting for less expensive vMVPD services like Sling TV. Comcast lost 136K residential video subscribers in 2Q18, a development that Comcast execs blamed squarely on vMVPD competition. By adding more options to X1, Comcast is trying to give customers a reason to stay, rather than venture out and explore other options.