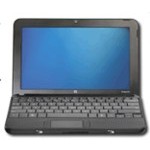 Clearwire's value proposition is built on portable broadband – the ability to take broadband services with you for a laptop or netbook. True mobility will apparently come later. So it's not surprising to learn that they now offer a subsidized netbook deal – a WiMAX enabled Samsung NC10 – for $199 with a two year Clear subscription at $45/month (with the first six months discounted to $30/month).
Given Clear's business model, I wonder why it's taken them so long to do so. Their entire existence (at least for now) is based on subscribers demanding 4G services for their laptops and netbooks, and to some degree, at-home broadband.
This deal competes with several other netbook deals, most notably from Verizon and other wireless carriers who have long promoted 3G enabled netbooks to entice 3G data subscriptions. Clear's offer may come up a little short, since it doesn't offer a dual mode 3G/4G radio. Given Clear's limited footprint, this promotion may have limited appeal. jkOntheRun outlines the pros and cons regarding the Clearwire Samsung NC10 offer.
I suspect we should see cable companies who offer WiMAX services offer netbook deals as well. Comcast has launched a netbook deal previously. But it was tied to their triple play offering (with mixed success), not their High Speed 2Go product.