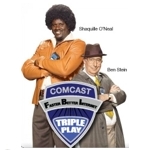 As a part of their ongoing FBI triple play marketing campaign, featuring Shaquille O'Neal, Comcast is quietly offering a free netbook for new triple play subscribers. I noticed the free netbook offer during a television commercial airing in the metro Washington DC market. In June of this year, Verizon launched a free netbook offer for new triple play customers.
I contacted Comcast's Consumer & Product Communications team, who informed me that the free netbook offer is not a universal offering. "It's a choice of the local market to take it or not – it could run in Uverse markets, FiOS markets and more – up to the market to put it in their rotation," said Mary Nell Westbrook, Senior Director of Corporate Communications for Comcast via email.
I suspect Comcast will pick up the pace with free netbook offers, especially when WiMAX enabled versions become widely available. Given their ongoing expansion of High-Speed 2Go, their WiMAX powered broadband wireless product, one could easily see free netbook offers tied to triple play and broadband packages.