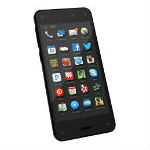 Just when we thought exclusive deals between smartphone vendors and wireless carriers were a thing of the past, along came the Amazon Fire smartphone. The innovative device, announced yesterday for a July 25 launch, will be available only through AT&T – at least for now.
The Fire smartphone does work in a wide range of wireless spectrum bands, however – including nine LTE bands, four GSM bands and five UMTS bands –suggesting that the product will be opened up to more carriers in the future.
Amazon Fire Smartphone Strategy
Amazon isn't the first Internet giant to venture into the wireless device market. Google led the way with its Android operating system. And just as Google viewed Android as a way of cementing Google's strong position in the Internet marketplace, Amazon clearly sees the Fire smartphone as a means of shoring up and strengthening its own position in various Internet categories – including streaming media, on-line storage and e-commerce.
Among the tie-ins:
Unlimited photo storage in the Amazon cloud.
"Firefly" capability uses multiple image, text and audio recognition technologies in combination with Amazon's "deep catalog of physical and digital content" to quickly identify movies, TV episodes, songs and products, explains Amazon in a press release about the Fire smartphone. "Simply press and hold the dedicated Firefly button to discover helpful information and take action in seconds," advises Amazon. With these capabilities, users can display names of actors, plot synopses and related content or add titles to a watch list. Similar capabilities exist for music, books, video games and other items.
"Dynamic Perspective" uses four ultra-low power cameras and four infrared LEDs built into the front face of the device, along with a custom processor and real-time algorithms. These capabilities support functionality such as "peek," which lets users see close-up front and back views of a dress sold through an Amazon shopping app, and "auto-scroll," which lets customers read a long web page or book without touching the screen.
Customers get a free year of Amazon Prime, which includes free two-day delivery on purchases along with free and discounted streamed content.
Using a mobile device to drive e-commerce is a strategy that has worked for Amazon before. According to surveys, consumers' intent to make purchases from Amazon increased substantially when the consumers became Kindle Fire users.
Indirect benefits were so strong that Amazon was thought to be subsidizing the price of the Kindle Fire. But it's not clear if the company is using that approach with the Fire smartphone. The retail price is a hefty $649 to $749.  Customers signing on for a two-year contract with AT&T will pay $199 for the basic model with 32 gigabyte capacity. Or they can choose a zero-money-down option and pay a monthly fee starting at $27.09.
Current basic models of the Fire smartphone's chief competitors – the iPhone and the Samsung Galaxy – have a lower 16 GB capacity.