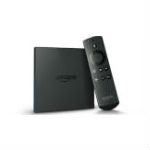 Amazon unveiled a competitor to Roku and Apple TV with the launch of Amazon Fire TV, a new OTT STB option, which will retail for $99. Amazon Fire TV offers many of the same features of its competitors, but also some distinct differences. Amazon has proven its not afraid to take on consumer electronic heavyweights, with the launch of the Kindle Fire tablet line, which holds it's own against Apple and Samsung in the tablet category. Can it do the same with an OTT STB?
The Amazon Fire TV offers a similar TV experience to other providers, including access to common OTT channels such as Netflix, Hulu, and of course Amazon Instant Video. Amazon does do an interesting twist on the interface. Rather than presenting channels like Netflix and Hulu, it can present actual titles (movies and TV), and after selection, then offers the different options to view the selection.
Amazon Fire TV packs some good hardware, featuring a quad core processor and 2 GB of RAM. By comparison, the Roku 3 features a dual core processor. Amazon does offer some distinct features that they hope differentiates Fire TV from the crowded OTT STB field including:
Voice search  – "…simply speak the name of a movie, TV show, actor, director, or genre into the remote, and you're done. No more hunting and pecking in an alphabet grid," Amazon says in their press release.
ASAP (Advanced Streaming and Prediction)  – predicts which movies and TV episodes you'll want to watch and buffers them for playback.
Game integration – Amazon integrates gaming titles into the STB to allow gameplay. A separate gaming remote priced at $40 is available.
Parental Controls – Amazon claims Amazon Free Time is the best parental control feature available on an OTT STB.
Whispersync—synchronizes video and music libraries across devices and allows stop, pause, and playback between them. Start a movie on your tablet and move it to the Amazon Fire TV wherever you left off.
What Amazon Fire TV doesn't do is give you access to competing video libraries like the Apple iTunes store. Of course, Apple TV does not give viewers access to Amazon Instant Video either. These OTT STBs are creating virtual content 'fiefdoms,' so consumers are sometimes forced to pick their  OTT STB based on which content platform they're most comfortable with.
Amazon Fire TV is Amazon's latest foray into the consumer electronics world. They've made some noise in the tablet arena with the Kindle Fire. There are consistent rumors that Amazon will also complete the three screen strategy by soon launching a smartphone as well. They appear to be creating their own ecosystem of devices based on the Fire brand, so a smartphone launch does make logical sense. If they do, they will join Apple, Samsung, and Google, all of whom are actively executing a three -screen ecosystem strategy of their own.