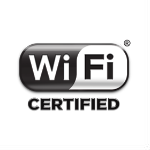 Wi-Fi Miracast is a new standard adopted by the Wi-Fi Alliance  that aims to make streaming of video and other multimedia content seamless between devices. It's a solution that wants to capitalize on the proliferation of smartphones and tablets, allowing for content on those devices to easily and seamlessly be displayed on other devices in the home, including smart TVs.
If you pull up a YouTube video on your smartphone and you want to view it in a better resolution, simply 'flick' it over to your big screen TV. The Wi-Fi Alliance announced today the first products to receive Wi-Fi CERTIFIED Miracast™designation. The goal is to certify thousands of consumer electronics devices as Miracast capable, giving consumers the ability to share content, regardless of device or brand.
"Wi-Fi users around the world want to experience multimedia on the device of their choice – no matter what brand – and Miracast is the breakthrough they have been waiting for," said Edgar Figueroa, CEO of Wi-Fi Alliance in a press release. "We have been delighted with the level of enthusiasm and support among our member companies for this new offering."
The first products to be designated Wi-Fi CERTIFIED Miracast, and which form the test suite for the certification program, are:
Broadcom Dualband 11n WiFi
Intel® WiDi
Marvell Avastar USB-8782 802.11n 1×1 Dual-band Reference Design
MediaTek a/b/g/n Dualband Mobile Phone Client, MT662X_v1 and DTV Sink, MV0690
Ralink 802.11n Wireless Adapter, RT3592
Realtek Dual-band 2×2 RTL8192DE HM92D01 PCIe Half Mini Card and RTD1185 RealShare Smart Display Adapter
The Wi-Fi Alliance says end user devices which are certified include the LG Optimus G smartphone, Samsung Galaxy S III smartphone and the Samsung Echo-P Series TV.
Wi-Fi Miracast is quite similar to Apple's AirPlay platform, which is used to stream content throughout a home or business from Apple products. Both are great examples of the applications driving the digital lifestyle and the digital home and provide service providers with yet another opportunity to enable it.