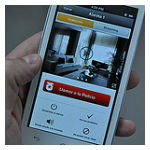 ABI Research sees an $11.2 billion worldwide communication provider smart home opportunity by 2022. However, the road to this revenue won't be an easy one, researchers said.
CSPs are driving adoption by providing services alongside their broadband and video offerings. CSPs, though, have been outperformed for this "UnTelco" business by aggressive competition from webscale companies and must either step up their game or become marginalized.
"CSPs are being threatened in a market increasingly driven by the likes of Google and Amazon with a range of products and services from AI-powered smart home voice control smart speakers to security solutions," Pablo Tomasi, a Senior Analyst at ABI Research, said in a press release. "But things are changing and CSPs are accelerating their strategies for the smart home. Telefonica with Aura, Orange with Djingo, and SK Telecom with Nugu lead the way of CSPs developing AI assistants to support their smart home play. Now is the time for CSPs to be more aggressive in tying the usage of their AI assistants to their other connected and smart home offerings."
Communication Provider Smart Home Opportunity
The report, "UnTelco in Smart Home: Telcos opportunities and Market Activities," says that the key to the smart home business for CSPs is the adoption of a platform approach, such as those set up by Deutsche Telekom and Comcast. This is characterized by a wide partner ecosystem and a monetization strategy favoring "freemium" services over traditional bundles. CSPs have great advantages in terms of connectivity, content creation, video delivery and specific applications such as monitored security.
Last month, ABI said overall smart home spending will increase from $56 billion this year to $123 billion by 2022. The steep gains will rely on diversity and collaboration among the players. In the report, ABI identified 150 vendors in six main service sectors. The six are security; energy management; home entertainment and media management; home maintenance; health and personalization.