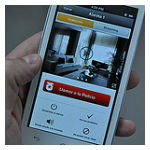 Smart home spending will more than double by 2022, according to ABI Research. Spending will grow in value from $56 billion today to $123 billion by 2022, researchers said.
This explosive growth, which will put smart home technology "at the heart of consumers' lives and purchase decisions," is encouraging new players and offerings.
"The holistic picture of the smart home landscape shows it is getting more crowded with nontraditional vendors, making it more difficult for both established and new players to see where opportunities and adjacencies lie," said ABI Chief Research Officer Stuart Carlaw in a press release. "A complete look at the entire ecosystem shows how the smart home is crossing over to smart mobility and ultimately smart cities, and this will require extensive collaboration among companies; no one company can survive the smart home market alone."
Smart Home Spending
To realize these lofty expectations, the industry must diversify and collaborate. ABI identifies 150 vendors in six main service sectors. The six are security; energy management; home entertainment and media management; home maintenance; health and personalization. Even the presence of huge companies such as Amazon, Apple, Google and Samsung does not reduce the need for cooperation.
In June, IDC reported that the smart home device market for 2018 will prove to be 26.8% larger than 2017. The firm said that 549.5 million devices will ship in 2018, let by smart speakers and video products, which will represent 71% of the total. Those categories will have a compound annual growth rate (CAGR) of 12% from this year through 2022.