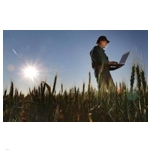 Updated
By the time AT&T announces its rural strategy next month, there may be very little left to announce.
Just a few days after Fitch Ratings predicted that AT&T would upgrade  rural lines using DSL or wireless, financial analyst George Notter at Jefferies & Company said he expects AT&T to upgrade three to five million out of 18 million rural lines to U-verse, with the remainder gaining broadband access via an LTE-based offering.
Notter's predictions are not based on leaks from inside AT&T but instead are based on his analysis of U-verse economics. His specialty is telecom equipment manufacturers and his goal was to determine the impact of whatever moves AT&T might make on those vendors.
Jefferies & Company's 18 million line number refers to lines which do not have FiOS available to them and are scattered across 80% of AT&T's service territory. Notter does not speculate whether the LTE offering would be mobile or fixed, but it wouldn't be surprising to see AT&T opt for a fixed offering similar to Verizon Wireless's HomeFusion LTE product, which uses a fixed antenna to enhance signal strength.
Notter also believes some AT&T rural lines will receive no upgrade.
Connect America Fund?
It's important to note that AT&T could be eligible for funding through the FCC's Connect America Fund for some of its rural lines once Phase 2 of that program gets underway. That program aims to help bring broadband to areas that cannot get it today by covering a portion of network build-out costs. In Phase 2, support levels are to be calculated based on a cost model that has not yet been developed.
But there has been no mention of the Connect America Fund program in any of this week's rumors about AT&T's plans and it could be that the company does not plan to participate in the program.
AT&T already turned down funding in Phase 1 of the program, which would have paid $775 per household toward the cost of building broadband to a portion of AT&T's customer base that cannot get broadband today. And the company may have determined that what Phase 2 will offer will be too little too late.
The company also may have realized, however, that if it does not upgrade those households, it could lose them entirely.
Any lines that cannot get broadband at speeds of at least 4 Mbps downstream and 1 Mbps upstream by the time Phase 2 of the CAF program launches will be targeted by the FCC for an upgrade. Under the terms of that program, AT&T will have the first shot at doing the upgrade at the cost model-calculated support level — but if the company declines to do that, a reverse auction would be held, with support going to the company that offers to build out broadband at the lowest level of support.
If another carrier were to win that bid (perhaps a cable or wireless company), AT&T might hang on to a few of the customers for a few years for traditional old voice service only. But as more and more people give up voice – and with the other carrier likely launching an alternative voice offering — that base could quickly erode to zero.
The FCC's minimum service requirements for a household to be considered "served" by broadband appear to allow LTE as an option. There is some verbiage in the Connect America Fund order that says anyone who receives CAF funding must allow usage at levels comparable to residential terrestrial fixed broadband service in urban areas.  But it isn't clear if an area would be considered "unserved" if it met target download and upload speeds but had a usage cap that wasn't comparable to urban residential terrestrial fixed broadband service. AT&T's mobile LTE service has a usage cap that is considerably lower than what we've seen for any landline broadband offering, as does Verizon's HomeFusion fixed LTE offering.
If an AT&T LTE offering is deemed to meet the FCC's definition of a "served" area and if indeed the carrier upgrades a substantial portion of its unserved households before CAF Phase 2 gets underway, the next question is what would happen to the funds that the FCC has targeted toward upgrading those households. Would it be available to other carriers to help cover their broadband deployment costs or would the FCC simply structure the program, which is funded by the telecom industry, so that a smaller level of funding is collected?
And if the availability of Verizon's HomeFusion offering to a customer also qualifies as "serving" that customer, the potential funding that could go into limbo could be considerable.