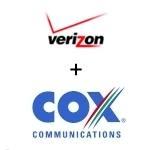 Verizon Wireless is buying Cox's AWS spectrum for $315 million. It's 20 MHz of spectrum and covers approximately 28 million POPs. It's virtually the same deal that Verizon Wireless struck with SpectrumCo, a joint venture of Comcast, Time Warner Cable, and Bright House Networks, giving Verizon Wireless a cable partner coup of sorts.
Just a short time ago, Cox had visions of their own wireless network and remained somewhat independent of their cable brethren. They struck out on their own after the failed cable industry wireless venture Pivot Wireless, winning spectrum at two auctions (AWS and 700 Mhz), and had visions of their own facilities based wireless business. Those grandiose visions of wireless splendor quickly fell back to Earth and Cox abandoned their own wireless plans earlier this year. Comcast, Time Warner Cable and Bright House decided to connect with Sprint and Clearwire after the Pivot failure, hoping to ride a 4G WiMAX wave that never materialized.
Now all of them have decided to give up their respective wireless plans and have hitched their wagon to Verizon Wireless (VZW). Interestingly though, Cox did not sell their coveted 700 MHz spectrum to VZW, holding somewhat of a spectrum hedge, which I suspect they'll hold out for a bigger and better future payday.
The latest development only adds to the intrigue of the VZW – cable industry partnership. With the move, VZW has basically locked up the entire cable industry as a partner and greatly enhanced their own wireless spectrum assets in the process. As we've discussed before, the most intriguing aspect to these deals are the two way resale agreements and the establishment of an innovation joint venture to "better integrate wireline and wireless products and services."
We'll have to wait and see what comes of this, but the possibilities have the potential to significantly alter the competitive dynamics of the cable, broadband, and wireless sectors.