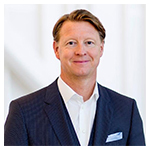 As Verizon restructures its operations in a bid to zoom in on three strategic focal points, CEO and Chairman Lowell McAdam has appointed the third of the three senior executives to lead the effort.
The company has hired former Ericsson CEO Hans Vestberg to lead its new Network and Technology team. Effective today, April 3, Vesterg will serve as the new group's executive vice president reporting directly to McAdam.
Initially based in Sweden, Vestberg later this spring will join and lead a U.S.-based team responsible for further developing Verizon's emerging fiber- and "customer-centric" network architecture.
The operational restructuring is designed to accelerate deployment of next-generation technology and enable Verizon to better respond to rapidly shifting customer needs, management explains.
Verizon has been ramping up its investments in and deployment of a mix of emerging next-gen network technologies in pursuit of these goals, as have its industry peers and competitors. Software-defined networking (SDN) and Network Functions Virtualization (NFV), as well as emerging 5G-LTE wireless broadband technology feature prominently among them.
Verizon's CFO Matt Ellis provided insights into Verizon's fixed 5G plans by outlining management's 5G Roadmap at a recent investor conference. That includes offering fixed wireless broadband service outside the company's traditional local service footprint.
Verizon Restructures
The executive vice presidents of Verizon's Media and Telematics and Customer and Product Operations Marni Walden and John Stratton, respectively, will lead the other two key operational groups and continue to report to McAdam.
Explained McAdam: "This new structure is designed to accelerate our progress toward delivering the promise of the digital world to customers. It will give us greater organizational agility to continue to lead the market with our wireless and fiber services, scale and expand our media and telematics businesses, and maintain the leadership in network reliability and new technology that is a Verizon trademark."
The Media and Telematics group is charged with integrating, scaling up and growing Verizon's portfolio of businesses, which will include AOL and Yahoo. The addition of Yahoo will add more than 1.3 billion digital media users to Verizon's overall user base, along with some $7 billion in annual revenue.
Walden will also continue to lead other strategic integration, business and market development and expansion initiatives, notably Verizon's growing portfolio of telematics companies. Hughes Telematics, Fleetmatics and Telogis are all part and parcel of the group, which serves customers in 30 countries.
Continuing to lead Verizon's Customer and Product Operations group, Stratton will be responsible for the performance of the company's mainstream businesses, including Verizon Wireless, Verizon Enterprise Solutions, Verizon Partner Solutions, Verizon Consumer Markets and Verizon Business Markets. In sum, their associated revenues are more than $120 billion annually and come from more than 120 million customers.
Notably, Stratton is also responsible for accelerating Verizon's shift to a "digital first" operating model. A growing portion of these initiatives revolve around operations and sales of Internet of Things products and services, including smart communities products and services.
Along this line, Verizon recently announced Verizon Ventures, its venture capital group, has acquired Portland, Oregon-based unmanned aerial vehicle systems (UAV, aka drone) specialist Skyward for an undisclosed amount. Skyward specializes in operations management for drones, and the Verizon Skyward acquisition could help Verizon in provisioning rate plans for drones on its network.
Assimilating Skyward into the organization will likely ripple out and have impacts across all three of Verizon's strategic business groups. Verizon's IoT revenue grew 35 percent in 2016 to total $964 million.