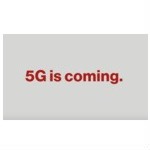 Verizon's fixed 5G plans include offering fixed wireless broadband service outside the company's traditional local service footprint, said Matt Ellis, Verizon chief financial officer and executive vice president today. Ellis made his comments in a question and answer session at an investor conference, where he outlined the Verizon 5G roadmap.
Verizon 5G Roadmap
Verizon currently has 5G fixed wireless technology testing underway in "eleven geographies" and "different environments" including urban and suburban settings, Ellis said.
The company expects to have results from those tests in "a few months" and to be "in a position to launch [service] in 2018," according to Ellis. That launch would use spectrum in the 28 GHz band, which Verizon gained use of through its purchase of XO Communications.
That purchase could give Verizon an edge, as the FCC has yet to establish a date for a planned auction of high-frequency spectrum suitable for 5G.
Verizon anticipates layering mobile service onto the fixed 5G infrastructure around 2020, Ellis said.
When Ellis's questioner noted that Verizon has less spectrum per subscriber than other major carriers, Ellis downplayed those concerns. He pointed to the company's pioneering efforts in network densification as an example of how the company will be able to serve subscribers more efficiently using existing spectrum.
Densification, which takes the form of small cell deployments, "adds significant capacity and pre-provisions the network for 5G," Ellis said.
Ellis also noted that Verizon was instrumental in organizing industry groups that helped accelerate the standards process for 5G.
This year's Verizon capex budget will be spent on boosting 4G coverage, density and capacity and on fiber, with "a bit of spending" on 5G, he noted.
Supporting Unlimited Offer
Verizon's recent launch of unlimited mobile data service was in planning well in advance of the launch, Ellis revealed.
"If we would do unlimited [service], we couldn't do it at the expense of network performance," Ellis said. Prior to the launch, the company studied what it would have to do to retain network performance and implemented those recommendations.
The question and answer session with Ellis occurred at the Morgan Stanley Technology Media & Telecom Conference, which was also webcast.