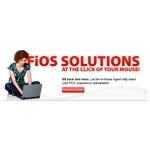 Verizon announced the launch of a TV version of its In-Home Agent. The new self care tool allows "uses the advanced FiOS network to diagnose issues, report back to customers, and then quickly and automatically fix most problems." The new tool will initially be available in Texas, California and parts of the Northeast and Mid-Atlantic.
The TV version follows the launch of a PC version of In-Home Agent. Verizon reports that 700K subscribers have downloaded the PC version of In-Home agent. Verizon reports the "TV-based tool can find and report on many home network setup issues that affect TV service such as loose cable connections." Other functions include helping customers set up remote controls and diagnose home networking problems.
The move by Verizon follows other self care initiatives by service providers, who hope to reduce their own operational and support costs by 'empowering' customers to diagnose and handle minor service issues. Today's young web 2.0 savvy demographic may appreciate some of these tools, but I can see it annoying other customers who have come to rely on their service provider to deliver a consistent quality product.
It's kind of like those automated cashier lanes at the grocery store and Home Depot. Sometimes the convenience is nice, but other times you don't appreciate having customer service processes off loaded onto you, the customer. Processes that used to be a part of the overall customer service experience that we pay companies to provide.