Verizon and Ericsson have completed a proof-of-concept trial of integrated access backhaul (IAB) technology, which Verizon hopes will speed 5G deployment in the millimeter wave band.
Even before 5G, regulatory approvals, permitting, licensing and installation for fiber backhaul builds have always slowed down getting cell sites fully operational. Given the dramatic increase in cell sites (macro and small) required to build out 5G, this issue can only get worse.
To address this, Verizon and Ericsson worked together to developed IAB, which has the additional benefit of enabling Verizon to quickly deploy mobile cellsites in support of first responders in an emergency situation.
Millimeter wave (mmWave) 5G technology – which Verizon has branded 5G Ultra Wideband – is extremely fast but very limited in range, requiring more cell sites. This makes Verizon more susceptible to this issue, given their reliance on mmWave for 5G.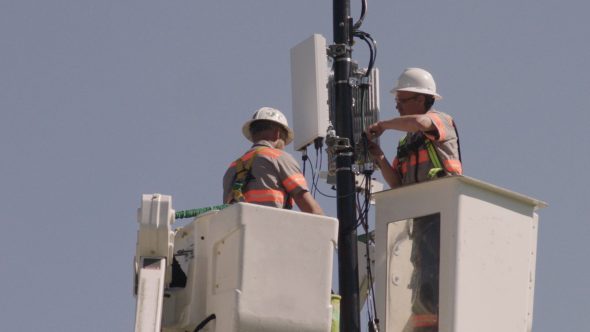 Verizon IAB uses airlink connections over mmWave spectrum instead of fiber for part of the signal's trek from the user to the core of the network. It dynamically allocates a portion of bandwidth for consumers to send data to cell towers and another portion for the cell tower to connect with the core of the network. Using mmWave for both parts of the connection obviates the immediate need for fiber. When fiber is available it can replace the portion of the wireless network delivering data to the network's core.
"Fiber is the ideal connection between our network facilities," said Bill Stone, Verizon's Vice President of Planning, in a press release. "It carries a ton of data, is reliable, and has a long roadmap ahead as far as technological advancements. It is essential. However, this new IAB technology allows us to deploy 5G service more quickly and then fill in the essential fiber at a later time."
Verizon said that the proof-of-concept also demonstrated that mobile cell sites, which often are deployed during emergencies, can be served by IAB.
Though its speed was down a bit from Opensignal's previous report, Verizon recently won the Opensignal 5G Download Speed Award with a speed of 494.7 Mbps, which was about eight times faster than runner up AT&T's 60.8 Mbps. In February, Verizon averaged 722.9 Mbps.