Verizon expects to deploy 5G nationwide this year, now that the company has completed successful trials using dynamic spectrum sharing (DSS) technology to enable LTE and 5G services to run simultaneously over low-frequency, also known as low-band, spectrum.
Until now, Verizon has deployed 5G only in high-frequency millimeter wave bands, which offer the highest speeds but over relatively short distances – a limitation that has caused the company's 5G coverage to lag behind that of AT&T and T-Mobile, both of whom have used a combination of low-band and millimeter wave spectrum to support 5G.
Dynamic Spectrum Sharing
As Verizon explained in a press release, DSS allocates spectrum resources between 5G and LTE in real-time, depending on customer usage patterns. This enables spectrum to be used more efficiently, the company said.
The company said DSS will be "commercially deployed in the near future."
Customers with 5G-enabled devices will use millimeter wave spectrum – an offering Verizon calls 5G Ultra Wideband — where available and will fall back on low-band 5G where Ultra Wideband isn't available.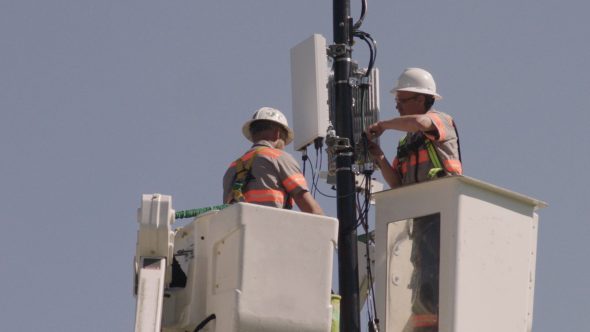 A Verizon spokesperson told us previously that 5G deployed in the company's low-band spectrum may not support speeds that are much higher than with LTE. Nevertheless, the company sees other advantages to low-band 5G.
"The launch of DSS technology will unleash the power of 5G technology, allowing for robust computing at the edge of the network, and greater programmability of the network to manage dynamic traffic and uses," Verizon said in today's release about Verizon 5G nationwide plans.
Detractors argue that Verizon is forced to use DSS because the company doesn't have sufficient lower-frequency spectrum holdings to dedicate such spectrum to 5G.
Verizon may have been the biggest advocate of DSS. But it isn't alone in its plans to use the technology. AT&T said just last week that DSS is live in portions of its commercial network. Like Verizon, AT&T is using DSS to enable LTE and 5G to share the same spectrum.
DSS "will complement Verizon's primary strategy of offering a keenly differentiated 5G Ultra Wideband service on [millimeter wave] spectrum which will remain our deployment priority," said Adam Koeppe, senior vice president of technology planning at Verizon, in the Verizon 5G nationwide press release.