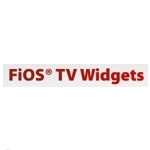 Verizon announced the launch of a few widgets today, or apps if you're so inclined to call them. The widgets include Facebook and Twitter interfaces for FiOS TV subscribers. These two widgets join FiOS' 'Widget Bazaar,' a TV version of a wireless app store, albeit a very scaled down one. Other features include Fantasy Sports and Internet video integration.
The Twitter and Facebook widgets don't allow actual updates like from a PC or mobile device. Verizon was careful to say during a demo that they are not trying to replicate the PC experience, only complement it. Users will be able to observe their social network accounts and offer very limited interaction with them. Over time, the interactive functionality will increase.
Verizon says the widget bazaar will be opened to other developers and they expect to have 'hundreds' of widgets available in the future. Don't expect an equivalent experience to the iPhone app store – Verizon will limit what developers can create and who can create them.
Verizon is doing a fairly decent job of leveraging the IP overlay of their more cable like video infrastructure. While not a true IPTV platform, FiOS is offering glimpses of what IP convergence means to the television experience. It really demonstrates the power of competition. Verizon knows they need to keep pace with cable and DBS telecompetitors, who are also bringing their own applications to the television experience. Absent that competitive dynamic, the pace of innovation would slow to a crawl.