Broadband customers' satisfaction rises significantly when they take more services, according to a study from Parks Associates developed for broadband vendor Calix. Parks reported that a service provider's net promotor score (NPS) increased as customers added managed services and other value-added services (VAS).
The disparity is great. Scores ranged from a -10 NPS for users with no VAS to 60 for those who take five or more.
The increased satisfaction appears to fall into a couple of broad categories. VAS includes such services as on- and off-network social media monitoring, managed home security, connected device protection and community Wi-Fi services. Satisfaction also grows in cases in which managed services are offered that aid in deployment, conducting operations and providing ongoing support. This both drives satisfaction and reduces operational costs, Parks' says.
"With increased fiber and fixed wireless adoption, there is growing competition at both the low and high ends of the market: players in the middle are increasingly getting squeezed," Parks Associates' Research Director Kristen Hanich said in a press release about the broadband NPS findings. "Declining pay-TV adoption, an ongoing trend, is pointing to the need for new bundles and offerings to attract and retain home internet subscribers. Remote technical support and self-service solutions are key in helping to prevent dissatisfaction among customers."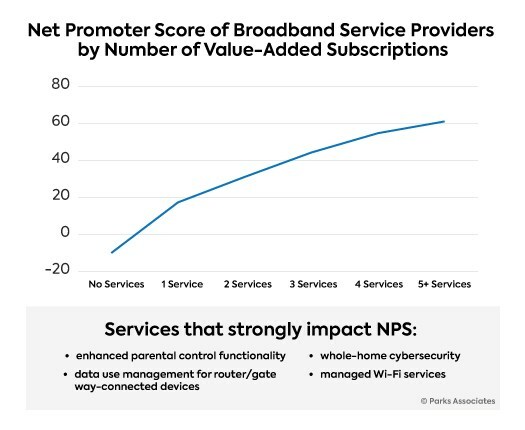 The link between proactively engaging customers and increased NPS was cited in a November, 2021 report by OpenVault. The report suggested that proactively addressing issues related to "speed clipping" – subscribers who exceed 80% of their provisioned broadband speed can improve NPS, reduce operational costs and increase average revenue per user.