The COVID-19 pandemic and the general increase in the centrality of broadband to the way in which people live has led to a much higher percentage of people using data near the highest level of their speed tier, according to the latest OpenVault Broadband Insights report.
This phenomenon — "speed clipping" — is defined by the firm as a subscriber exceeding 80% of their provisioned broadband speed. OpenVault says that it has increased "dramatically" during the past 18 months and that not confronting it can negatively impact customer experience.
However, proactively taking on the issue could potentially improve net promoter scores, reduce operational expenses and increase average revenue per user. In many cases, customers are confronting the issue themselves by upgrading their plans.
OVBI says that gigabit subscribers have grown by 4.5x since pre-pandemic times. Subscribers in tiers of 200 Mbps or slower – 56.2% of subscribers – are prone to speed clipping.
OVBI says speed clipping is particularly common as multiple family members simultaneously use high bandwidth applications such as video streaming, gaming and video conferencing.
The statistics can be startling. During the 9 PM hour this September, speed clipping grew 400% when compared to May 2020. It peaked at 150% in the upstream during the 11 PM hour.
Not paying attention to this trend leads to great inefficiencies.
"A poor customer experience from speed clipping often leads to calls to customer care and network troubleshooting that are unnecessary," the report says. "In most cases, there is nothing wrong with the network, but without visibility into this issue, it may take the expense of a truck roll to determine that the problem is not network-based. When the real issue is speed clipping, the solution is upgrading that subscriber to a faster speed tier, on which they are less likely to routinely reach the 80% threshold."
Other findings from OVBI's third-quarter report, which uses data from millions of broadband subscribers:
Monthly weighted average usage – including both usage-based billing (UBB) and flat-rate billing (FRB) subscribers – was 434.9 GB, up 13% over the third quarter of 2020 and up slightly from the previous quarter.
Monthly median usage continues to grow at a faster pace than average usage, indicating broad-based entrenchment of broadband within consumers' lives. In the third quarter of this year, the median usage growth of 21% was 61% higher than the 13% average usage growth.
Growth is happening significantly faster on systems that offer flat-rate billing (FRB) plans versus those that utilize UBB). FRB subscribers usage growth was 52% more than that of UBB subscribers, resulting in usage per subscriber that was nearly 10% higher (458 GB vs. 419 GB).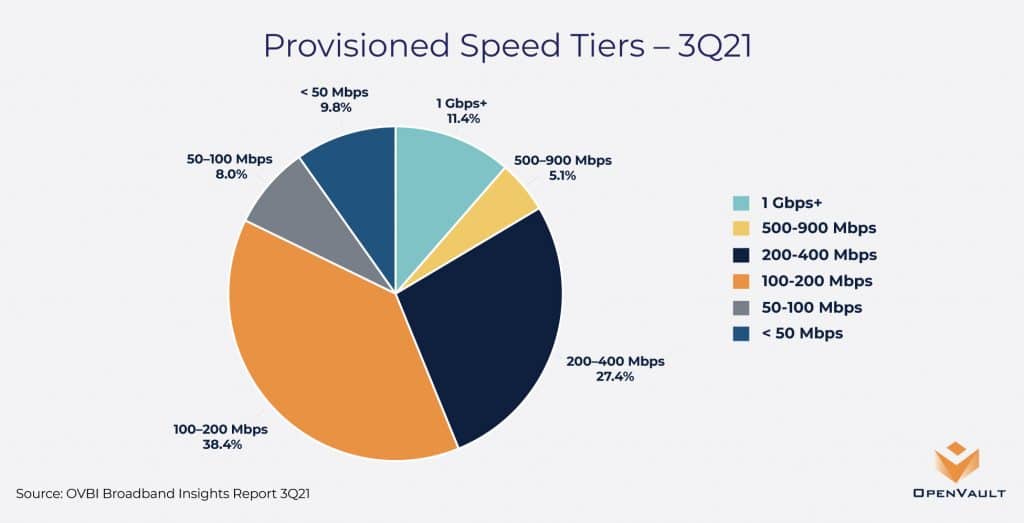 FRB-based networks exhibited 53% growth among extreme power users of 2 TB or more, while extreme power user growth among UBB subscribers was 39%.
OVBI said in August that the percentage of subscribers with 1 Gbps or faster speeds more than doubled – from 4.8% to10.5% — between the second quarter of 2020 and 2021.