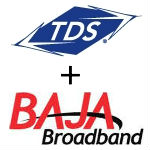 TDS appears to be back into acquisition mode with the announcement today of their intent to buy Baja Broadband. Baja is a cable MSO offering triple play services in Colorado, New Mexico, Nevada, Texas, and Utah. According to TDS, Baja Broadband passes 212,000 homes, with approximately 74,000 video subscribers, 56,000 high-speed broadband subscribers and 15,000 digital voice subscribers. The announced purchase price is $267 million.
TDS has been quite active in acquisitions the past couple of years, but has been focused on enterprise and wholesale assets like data centers. This is the first service provider acquisition by the company since November 2009, when they purchased Union Telephone Co. of New Hampshire. The deal signals an opportunistic view by TDS, and perhaps other tier 2 providers, to pick up attractive broadband properties that help expand scale and contribute to positive earnings growth. According to TDS, as of the end of 2012, Baja generated $82.4 million in annual revenue and had approximately 285 employees. It is yet another example of the ongoing consolidation trend within the tier 2 and 3 sectors.
"Baja Broadband is a natural extension of TDS' existing business, with significant potential to deliver increased returns over time," said David A. Wittwer, president and CEO, TDS Telecom in a TDS press release. "Our strategy is to leverage our expertise and existing platform and technologies to accelerate growth in underserved, high-potential markets. We plan to build on Baja's solid customer base and upgraded network to increase penetration and revenues with new services and products and outstanding customer experiences."

Wittwer also highlighted the potential of Baja'a business customer footprint as a growth strategy for their growing enterprise services focus, through their TDS Hosted & Managed Services subsidiary. TDS has acquired several data center and enterprise focused assets that they now hope to exploit in these new Baja markets.
Interest in Cable Acquisitions on the Rise
TDS historically has looked to the traditional telco sector for growth by acquisition. But that attitude may now be shifting, with more attention on cable properties with advanced two way digital broadband networks. "We have identified cable as a growth strategy. Baja is our first acquisition in the space and this action continues our transformation into a broadband centric company," a TDS spokesperson tells Telecompetitor in an emailed statement.
TDS also tells Telecompetitor, the move does not impact their IPTV plans. With 74K cable video subs, TDS' cable video sub count from Baja alone will far surpass their IPTV sub count, which is currently less than 10K. With regards to IPTV, there is "No change in strategy, we'll operate Baja with their existing, recently upgraded infrastructure." Baja's experience in cable and in content acquisition should be a plus for TDS as they look to expand their IPTV presence.
For now TDS says they will continue to operate Baja Broadband under its current brand. "We expect to keep the Baja Broadband name at closing and will continue to operate under that name for now," the TDS spokesperson said. The Baja team will report directly to TDS CEO David Wittwer.