Mobile carrier T-Mobile is the latest to enter the streaming TV market with the launch of TVision. The service offers a variety of channel line-ups and a new streaming media device, with pricing for 30 channels starting at $10/month.
The T-Mobile streaming TV service offers four distinct channel line ups. TVision Vibe is the entry package and it offers 30 sports and news free channels including AMC, Discovery, MTV, and BET, among others. The Vibe package also includes an on-demand programming library and two simultaneous streams.
Additional channel line ups under the TVision Live packages, as described by T-Mobile, include:
TVision Live TV: Just $40/month for 30+ channels featuring top sports and news.
TVision Live TV+: All of the above plus 10+ more channels, including regional sports, football and golf, for just $50/month.
TVision Live Zone: The best choice for sports fans to get into the zone with pro sports networks and more! At just $60/month, it includes all of the above, plus 10 additional channels.
As for premium channels, TVision is aggregating those as well and they can be purchased as standalone apps. So far Starz, Showtime, and Epix are available.
Noticeable omissions in the channel line-up in my local market (Washington DC) include CBS and HBO.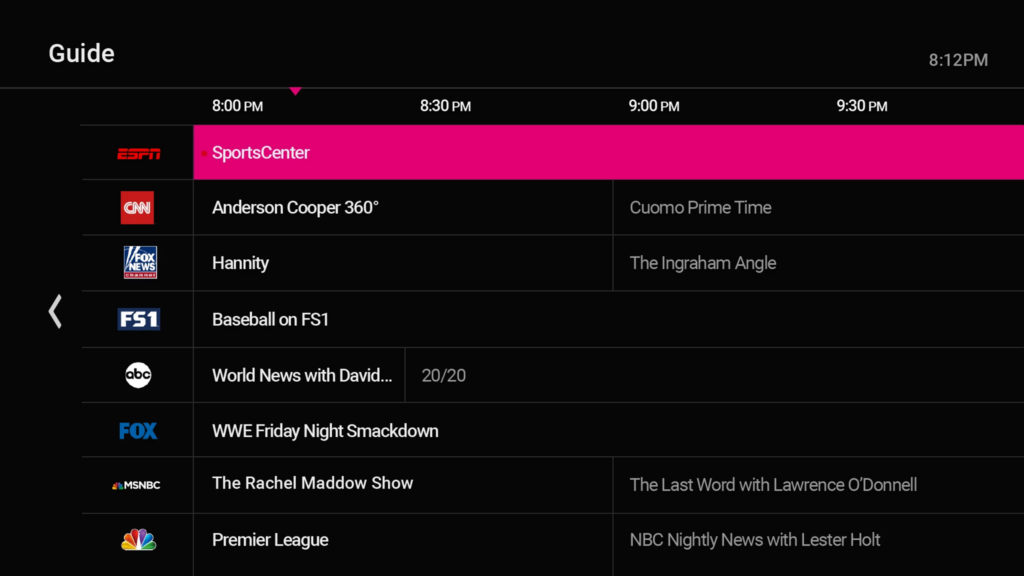 The new T-Mobile streaming TV service also includes its own streaming media device called the TVision Hub, priced at $50. It's a competing device to Roku and Amazon Fire TV. It's an Android TV device with a voice-controlled remote. Customers can access all there other streaming services through the Hub. A TVIsion app can be accessed through other devices.
TVision will become available nationwide on November 1 for T-Mobile wireless customers, and to legacy Sprint customers later in November. Non T-Mobile customers will get access some time in 2021.
"You can cut the cord for as little as ten dollars a month with TVision VIBE. Or if you want live news and sports, you can get it starting at just forty dollars a month with TVision LIVE. That's TVision, and THAT is TV done right!" said Mike Sievert, CEO of T-Mobile in a press release. "The Cableopoly holds TV fans hostage, bundling live news and sports into expensive packages with hundreds of other channels that people don't want, and don't watch."
This is T-Mobile's second attempt at video. TVision comes to T-Mobile as a result of its acquisition several years ago of Layer 3 TV, which originally was an IPTV provider launched to take on the pay-TV industry. At the time of that acquisition, T-Mobile said it was going to try to upend the pay-TV business, in the same way that it upended the wireless business. The first attempt didn't look much different than regular pay-TV service.
This new T-Mobile streaming service enters a fairly crowded market. With TVision, T-Mobile is trying to meet different consumers where they are with video. Those who just want to pair a few channels with their streaming SVOD services can choose the Vibe package.
Those who are looking for a more traditional channel line-up can choose the Tvision Live packages, which look very similar to YouTube TV, Sling TV, or fubo. So many choices for consumers.
This post has been updated to include the launch timelines.