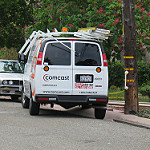 Sending personnel to people's homes – truck rolls – is a major expense to broadband and video providers. In addition to costs, other challenges are growing steeper as consumers become more mobile and their habits more unpredictable, according to results of a service call survey released today by ContactEngine, provider of a contact management platform.
ContactEngine, which calls itself a customer-conversation management platform, found that 74 percent of respondents with set appointments don't always answer the phone or their door in response to home installation or repair personnel.
Service Call Survey
The survey results, which are based on 1,120 consumers nationwide, reveal that the time when people tend to be home is less defined than in the past. Forty-four percent said that there is no best time to be contacted and 35 percent said that there is no best day or time for an appointment.
The top three reasons for missing appointments seem to indirectly back up the basic theme of the unpredictability of today's subscribers and customers. "I didn't know they were coming" and "I simply forgot about the appointment," both cited by 27 percent of respondents, were the top two reasons why appointments are missed. "I didn't hear the doorbell" was third at 20 percent.
More broadly, the survey showed that ways of communicating are changing. A tad more than half – 51 percent – prefer using their cell phones to email or a landline to arrange home appointments. This inference in the release is that this level of mobility adds to the difficulty of setting appointments and subsequently finding folks in their home.
ContactEngine CEO Dr. Mark K. Smith, said in a press release that this is a trend across all groups in society, not just millennials. He offered advice to telecommunications, utilities and other companies that rely on home visits. "[T]he use of mobile devices for all comms reflects an adjustment in the work-life balance: people are time-poor, which means that corporations need to have much more targeted conversations with their customers."
The press release offers other anecdotal findings. The most illuminating is that 4 percent of respondents have rescheduled an appointment more than 20 times.
Image courtesy of flickr user Dave Winer.