Verizon customers enjoy the fastest mobile downloads in the U.S., followed by AT&T customers, according to a new study by Canadian-based mobile data company Tutela.
On the upload side, however, T-Mobile is leading the pack for speeds across 4G, closely followed by Verizon and AT&T, with Sprint trailing far behind, according to Tutela.
Fastest Mobile Downloads
The researchers used nearly 1 million mobile network speed tests, and analyzed more than 11 billion data points while conducting the study in April. Based on those tests, Verizon had an average download speed of 21 Mbps followed by AT&T at 14Mbps, T-Mobile at 11.75 and Sprint at 8.51Mbps on average, across the country. The averages were based on typical-activity network tests.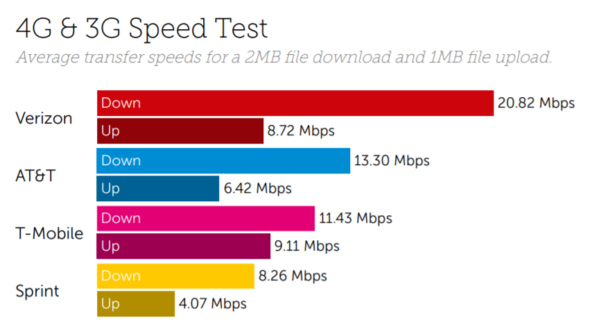 The findings are similar to those of a Wirefly study that we reported on a month ago that also found Verizon at the top. According to that study, Verizon logged in at an average speed of 19.92 Mbps, followed by AT&T at 18.26 Mbps, T-Mobile at 17.29 Mbps and Sprint at 14.77 Mbps. Verizon also was the fastest on the download side at 20.44 Mbps. It was followed by AT&T at 19.11 Mbps, T-Mobile at 18.08 Mbps and Sprint at 15.60 Mbps.
"There is understandably a lot of interest in the industry about network speeds, with operators wanting to be the fastest, however the focus is often on the 'peak speed' results taken under optimum test conditions, something very few end-users experience in the real world," said Tom Luke, Tutela vice president, in a prepared statement. "Our results are based upon the network performance users experience on a day-to-day basis, when carrying out typical activities. With this in mind, our results show Verizon and AT&T providing the fastest down speed, with T-Mobile leading in terms of upload performance."