An authoritative study commissioned by the Internet Innovation Alliance contains valuable information about mobile vs. fixed internet preferences. Researchers at CivicScience surveyed 10,000 people for the study and the researchers appear to have been quite diligent about ensuring an appropriate mix of respondents. But beware how the findings are spun.
On a conference call with reporters today, IAA Honorary Chair Rick Boucher said 47% of respondents prefer fixed internet, compared with 43% who prefer mobile or have no preference.
"The distinctions between wireless and wired internet don't matter," Boucher said.
A close look at the numbers tells a different story.
Mobile Vs. Fixed Internet Preferences
Less than a quarter of respondents (23%) said they preferred to use a smartphone or tablet to access the internet, while 20% said they didn't care about their access method. In comparison, I calculate the percentage of people who prefer fixed internet at 53%, or more than half.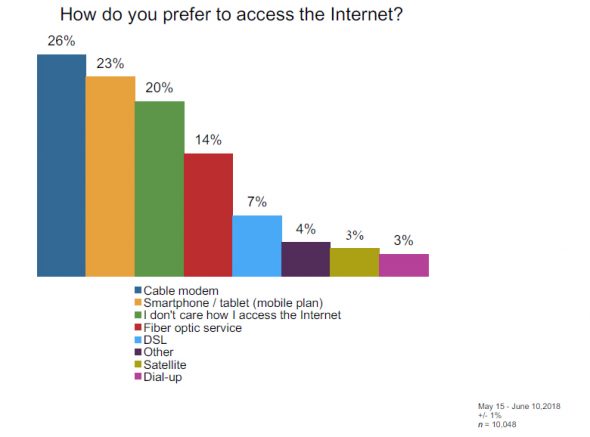 Boucher apparently added the numbers for cable modem, fiber optic service and DSL to arrive at the 47% figure and did not include satellite (3%) or dialup (3%), which are both fixed offerings. (Respondents compared whatever type of fixed service is available to them with mobile internet. Hence the findings for satellite and dialup, and the 7% number for DSL. Respondents weren't comparing those technologies with faster fixed options but with mobile internet, if available.)
It's also important to note that the survey didn't ask whether customers would prefer mobile-only or fixed-only service. Many people have both fixed and mobile service and may prefer one or the other, but may want to have both.
IAA's Spin
"We don't have a policy agenda in commissioning this study," Boucher said on today's call in response to Telecompetitor's question about the policy implications of the study and the potential impact on the Universal Service Fund (USF) or other broadband issues.
Boucher said the goal of the survey was to provide more current data for policymakers to draw upon. He noted that the FCC's most recent annual broadband progress report, released in February, argued that wireless internet is not a substitute for wired internet but based that conclusion on outdated data.
"The landscape we see in 2018 has dramatically changed and the FCC should rely on more current data," Boucher said. With regard to fixed vs. mobile internet, he argued that consumers "no longer express a clear preference for one over the other – wired and wireless broadband services are functional substitutes."
He said he hoped the survey findings will "aid" the FCC in preparing the next broadband progress report.
If the FCC were to state that mobile broadband was a functional substitute for fixed broadband, the amount of competition nationwide would be considered substantially higher than it is today, which could have implications for business data services policy and other types of regulation.
With regard to the USF, Boucher said he doesn't expect a reversal of the FCC's stance on mobile and fixed internet to cause the commission to "step back from providing funding where needed."
One FCC commissioner already has floated the idea of eliminating the USF mobility fund, however, instead envisioning support for only a single carrier – which could be fixed or mobile — in an area.
Image courtesy of flickr user Sean MacEntee.