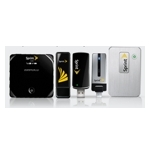 Sprint has a vested interested in getting as many subscribers as possible signed up for their 4G product – as soon as possible. That's because they know Verizon's competing LTE product is on the horizon, scheduled to launch sometime (albeit in limited markets) in 2010. If Sprint can really deliver solid performance on their 4G product, which is powered by Clearwire's WiMAX network (of which Sprint owns 51%), LTE may not offer a compelling enough reason to switch.
In more traditional terms, it's a land grab, and among nationwide wireless carriers, Sprint is the only 4G game in town – for now. Perhaps that's part of the motivation behind a price drop of $10/month, as reported by Fierce Wireless, for their current 4G service (which also offers 3G roaming).
The new $59.99/month pricing is also closer to the limited WiMAX options (geographically speaking) offered by cable companies, namely Comcast and Time Warner Cable. Interestingly enough though, both Comcast and Time Warner Cable also use the underlying Clearwire network (and are equity partners) and roam onto Sprint's 3G Network. Makes for an interesting 4G competitive laboratory.