Sprint 5G markets now include parts of New York City, Los Angeles, Phoenix and Washington, D.C. The expansion brings the company's 5G market total to nine. Also today the company began selling the OnePlus 7 Pro 5G smartphone in some markets, bringing the company's 5G device total to four.
Sprint initially launched 5G service in May in Atlanta, Dallas/ Fort Worth, Houston and Kansas City, later adding Chicago. According to today's press release, the company now covers approximately 2,100 square miles with 5G and expects to cover approximately 11 million people within "the coming weeks."
Sprint's press release today details areas within the company's 5G markets in which coverage is currently available. Those of us following carrier 5G launches have become accustomed to seeing these details, and in the case of some carriers, coverage has been quite limited. Sprint's coverage tends to be somewhat broader in comparison with the other three major carriers, however, as the company is deploying 5G in the 2.5 GHz band, which provides better range in comparison with the millimeter wave spectrum that AT&T, T-Mobile and Verizon have used for their initial 5G launches.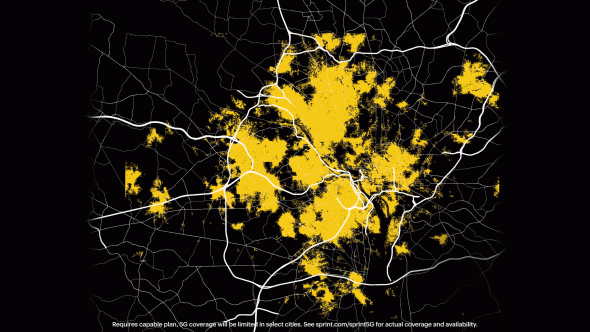 The downside to Sprint using mid-band spectrum is that the speeds it can support are lower in comparison with what other carriers are achieving in the millimeter wave band. Nevertheless, Sprint's 5G speeds provide plenty of bandwidth for most of today's applications and offer a big boost in comparison with earlier-generation technology.
The company cites Ookla Speedtest Intelligence data showing its average 5G download speed to be 203.8 Mbps, in comparison with a 35.2 Mbps average download speed on the company's LTE network.
OnePlus 7 Pro 5G
According to Sprint's press release, the OnePlus 7 Pro smartphone features:
A triple camera including an ultra-wide angle lens, 3x optical zoom and innovative pop-up approach
A seamless, edge-to-edge fluid AMOLED display that provides "unrivaled" smoothness courtesy of a 90 HZ refresh rate
Warp Charge 30 technology that charges the phone up to 50% in 20 minutes
The device will lease for $20 per month. It joins three 5G devices previously announce for the Sprint network, including the Samsung Galaxy S10 5G and LG V50 ThinQ smartphones, along with the HTC 5G Hub mobile hotspot.